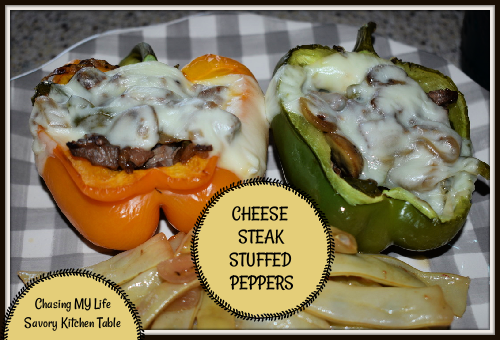 CHEESE STEAK STUFFED PEPPERS serves 4 PHILLY CHEESE STEAKS with a TWIST!
4 bell peppers, halved and seeded, your color of choice
1 tablespoon avocado oil
1 large onion, sliced thin
16 ounces sliced mushrooms
FRESH ground sea salt and black pepper
1 1/2 pound flank steak, grilled and thinly sliced
2 teaspoons Italian seasoning
8-16 slices provolone
FRESH chopped parsley, for garnish
Generously season flank steak with FRESH ground sea salt and black pepper.
Grill steak 2-3 minutes over a greased medium grill.
Remove from grill and rest on cutting board covered with foil.
Preheat oven to 325º.
Place peppers in a large baking dish and bake until tender, 30 minutes.
In a large skillet over medium-high heat, heat oil.
Add onions and mushrooms and season with salt and pepper, cooking until soft, 6 minutes.
Add steak, tossing to coat well and blend.
Cook, stirring occasionally, 3 minutes.
Stir in Italian seasoning.
Add provolone to bottom of baked peppers and top with steak mixture.
Top with another piece of provolone and broil until golden, 3 minutes.