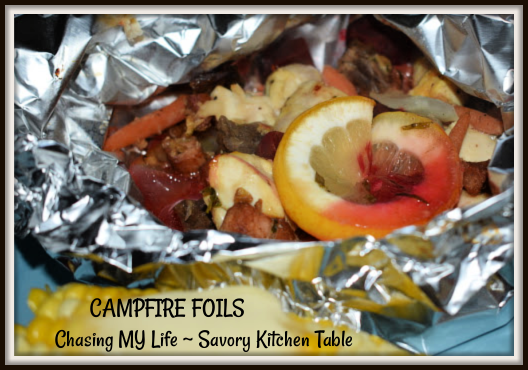 CAMPFIRE FOILS ~ BEEF, CHICKEN & ROOT VEGGIES
4 tablespoons butter
4 cloves garlic, minced
1 tablespoon FRESH, FINELY chopped tarragon
FRESH ground sea salt and black pepper
1 cup baby carrots, halved
1 LARGE sweet onion, cut into thin wedges
3-4 beets, peeled and chopped
3-4 red potatoes, cut into large chunks
1 lemon, THINLY sliced
1 pound boneless, skinless chicken tenders
1/2 pound grilled medium rare flank steak, rested and cut into bite sized chunks
1/4 pound salt pork, diced (or substitute 4 slices thick bacon)
Preheat oven to 375° or grill to medium heat.

In a small skillet rendered salt pork or bacon until ALMOST crisp.

Add butter, tarragon, garlic, salt and pepper in a small saucepan and simmer until melted and well blended.

Toss veggies and lemon slices with the melted butter mixture. Drain veggies, reserving butter mixture.**see note


Arrange 4 large (12×16 or so) pieces of foil on the counter top.

Spray with non-stick cooking spray.

Divide veggies evenly among the foil pieces.

Toss chicken tenders with the drained butter and arrange evenly on top of veggies.

Drizzle any remaining butter on top of each packet.

Bring the edges of the foil up, folding a couple times to seal, but leaving air space.

Bake or grill 50 minutes until chicken is cooked through and veggies are tender.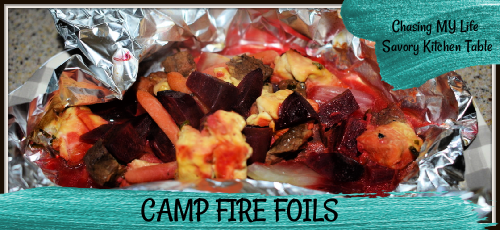 NOTE: If you would like to prepare this in advance as I have many times, cut the chicken tenders into thirds.  Then toss to coat well all the meats and veggies with the butter mixture in a large mixing bowl.  Cover tightly and refrigerate until ready to prepare foil packets.