I LOVE this recipe because there is an actual saladness to it and no tortillas are needed. It is as refreshing as it is filling and hearty.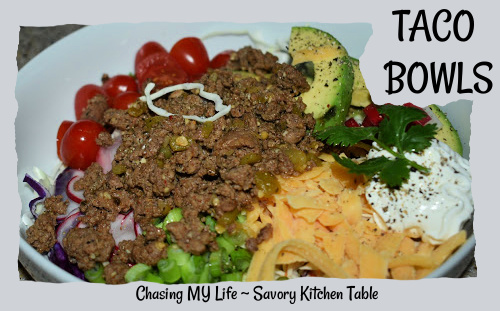 TACO BOWLS serves 4
1 pound ground beef
2 tablespoons avocado oil
1 1/2 tablespoons chili powder
1 teaspoon cumin
1/4 teaspoon cayenne pepper
3 cloves garlic, minced
4 ounce can diced green chiles, drained but reserved
1 bunch green onions, sliced thin
1/2 cup mini pepper rings
4 LARGE radishes, sliced thin
2 cups grape tomatoes, halved
6 cups shredded cabbages and carrots
1-2 LARGE avocados, sliced
1 LARGE lemon, juiced
FRESH ground sea salt and black pepper
FRESH chopped cilantro, to taste
1 cup sour cream
1-1 1/2 cups shredded cheddar
salsa (optional)
Heat oil in large skillet over medium high heat.

Add garlic and pepper rings, cooking and stirring 5-7 minutes until it begins to brown.

Add beef, chili powder, cumin, cayenne pepper, green chiles and salt. Cook, stirring occasionally until beef is cooked through.

Whisk together the lemon juice and reserved green chile liquid.

Arrange FRESH ingredients in bowls.

Drizzle with lemon juice mixture.

Sprinkle generously with FRESH ground sea salt and black pepper.

Divide the shredded cheese and a dollop of sour cream to each bowl.

Add a large scoop of the meat to each bowl, garnish with cilantro and serve immediately.