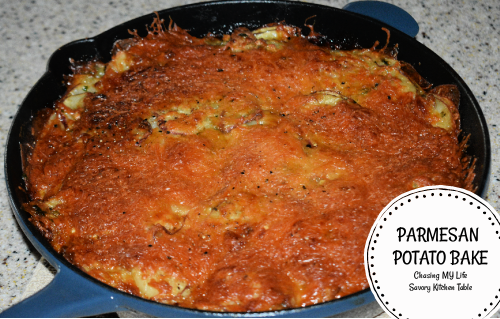 PARMESAN POTATO BAKE
6 LARGE red potatoes
FRESH ground sea salt and black pepper, to taste
3 tablespoons grated Parmesan cheese
1 tablespoons FINELY minced Italian parsley
4 tablespoons butter, melted
1 tablespoons avocado oil
3/4 cup shredded Parmesan cheese
Preheat oven to 450°.
Slice potatoes with a mandolin on a medium thin blade.
Toss potatoes with melted butter, grated Parmesan, parsley and FRESH ground sea salt and black pepper until well coated.
In a 10 inch cast iron skillet heat avocado oil and make sure the entire skillet is coated with the oil.
Layer potatoes and shredded Parmesan cheese 3 times.
Transfer pan to oven for 30 minutes.
Turn off oven and cover with foil, leaving pan in oven for another 30 minutes.
When ready to serve, invert onto serving plate and cut into wedges.