I adapted this recipe from a postcard I picked up at a farmer's market. The original recipe called for their Jalapeno wine which is super expensive and only available by mail since I was traveling and a day and a half from home, hence the adaptation. 😀
The recipe originally called for using the grill, but I also adapted it to the oven and we're quite happy with it.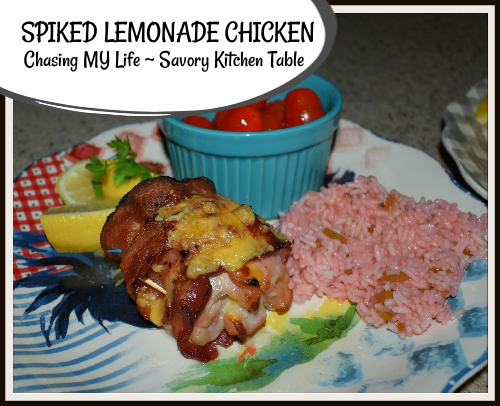 SPIKED LEMONADE CHICKEN
4 boneless, skinless chicken breasts, butterflied
12 ounce frozen lemonade concentrate, thawed
4 ounce can chopped green chilies, DRAINED juice reserved
12 ounces crisp white wine
8-10 strips bacon
1 1/2 cup shredded mozzarella cheese
FRESH ground sea salt and black pepper
Combine the thawed lemonade concentrate, wine and juice from green chilies in a large ziploc bag.
Add chicken pieces and turn to coat. Marinate 8 hours.
Preheat oven to 375°.
In a large skillet cook bacon 3-5 minutes to render off most of the fat, but so that bacon slices are still soft and pliable. Cool several minutes until cool to the touch.
Line baking pan with silicone mat or foil sprayed with non-stick cooking spray.
Drain off marinade.
Lay chicken pieces out and generously season with FRESH ground sea salt and black pepper.
Arrange shredded cheese and green chilies evenly on chicken breasts.
Fold close and wrap each chicken breast tightly with 2 pieces of bacon and secure closed with toothpicks.
Arrange chicken pieces on baking sheet.
Bake 20 minutes until chicken is cooked through and bacon is crisp.
Remove from oven and cover with foil to rest for 8-10 minutes.