Chicken Continental as a recipe appears to be a collaboration from Campbell's soup and Minute Rice during the 1960's, an era of combining 'prepared' foods to form casseroles as your main meal.  Casseroles as a whole obviously go back MUCH further, but were usually made with scratch ingredients or bits of leftovers. I have found cookbooks on pinterest and google with the recipes, but I have grams old card with the Campbell's label recipe on one side and a portion of a Minute Rice box cut out on the other.
Either way, I wanted to bring the recipe into the 21st century with using boneless, skinless chicken and FRESHer ingredients to spice it up a bit while maintaining the integrity of the original flavor base of the recipe.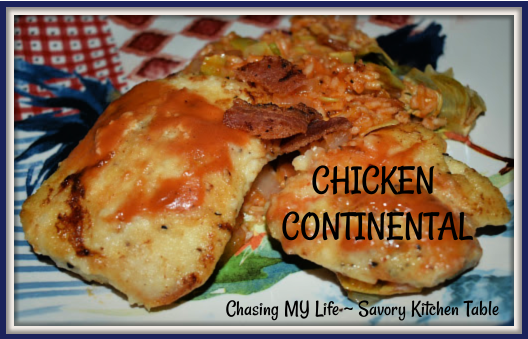 updated CHICKEN CONTINENTAL
4 chicken breasts
1/4 cup WONDRA flour
2-3 bacon slices, cooked crisp, drippings reserved
8 ounces FRESH sliced mushrooms
2 tablespoons butter
1 tablespoon avocado oil
1 bunch green onions, sliced
1 stalk celery, strings removed, diced
2 tablespoons FRESH chopped thyme
2 tablespoons FRESH chopped Parsley
1 1/2 cups Minute Rice (uncooked)
1 can Campbell's Tomato soup
1 cup chicken broth
FRESH ground sea salt and black pepper
Preheat oven to 375°.

Generously season chicken breasts with FRESH ground sea salt and black pepper.

Dredge chicken breasts in flour and set aside.
Add  1 tablespoon of butter and oil to the bacon drippings in a large skillet.

Add celery and onions, sauteing lightly until softened.

Add mushrooms, thyme and parsley, cooking a couple minutes more until mushrooms begin to caramelize.

Add chicken broth and soup, blending together and bring to a boil.

Pour all but 1/2 cup into a large mixing bowl and stir in rice. Cover with a plate and set aside.

Return skillet to stove and add last tablespoon of butter to melt.

Add chicken pieces and sear 2-3 minutes per side.

Arrange rice mixture into the bottom of a prepared baking dish.

Nestle chicken breasts into rice.

Top with remaining sauce.

Cover and bake 20 minutes until chicken is completely cooked through.
NOTE:  Hubby hates mushrooms, but I love them so I makes them "separately" and add them to just mine. 😀