Once upon a time this would have been called a DUMP cake, but when I saw a version of it on FaceBook from My Baking Addiction where they called it a Pumpkin Crunch Cake I knew I had to make my own version. This cake epitomizes fall flavors and is wonderful cold or even at room temperature! Don't forget a dollop of whip cream and a sprinkle of cinnamon. I made some other modifications for taste and we now call it Pumpkin Pineapple Crunch Cake aKa modified HARVEST DUMP CAKE.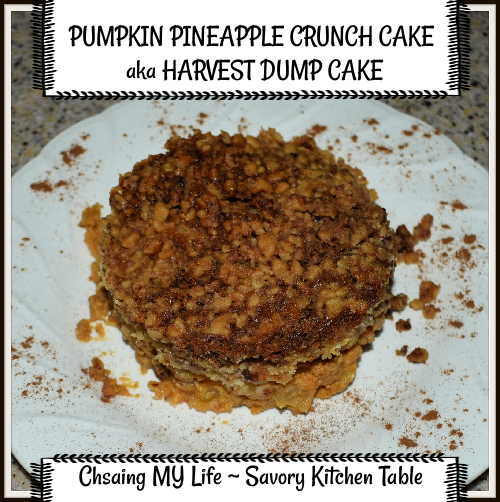 Pumpkin Pineapple Crunch Cake aKa modified HARVEST DUMP CAKE Serves 12-18
Prep Time: 10 minutes Cook Time: 1 hour Chill Time: 3 hours Total Time: 4 hours 10 minutes
1 (15 ounce) can pumpkin puree
1 (12 ounce) can evaporated milk
1 (8 ounce) can crushed pineapple (drained WELL)
4 LARGE eggs
1/2 cup sugar
1/2 cup packed light brown sugar
2 teaspoons PURE vanilla extract
1 tablespoon pumpkin pie spice (apple pie spice works well too)
1 teaspoon salt
1/2 cup golden raisins or currants (currants are my favorite)
1 box yellow or white cake mix
1 cup chopped walnuts divided 3/4 cup + 1/4 cup
1 cup unsalted butter, melted
cinnamon sprinkle
Preheat oven to 350°.

Butter a 9×13 inch baking pan.

In a large bowl, whisk together the pumpkin puree, evaporated milk, eggs, sugars, vanilla, pumpkin pie spice and salt and well combined and smooth.

Fold in crushed pineapple and raisins.

Pour mixture into prepared pan and spread into an even layer.

Sprinkle dry cake mix evenly over the pumpkin mixture, followed by the 3/4 cup of chopped walnuts and use you hands to gently press it into the pumpkin batter.

Evenly drizzle the melted butter over the entire cake.

Bake in preheated oven for 45 minutes. Check your cake. If the top is becoming too brown, cover the cake with a piece of foil for the remaining bake time. Continue baking an additional 15-20 minutes or until set.

Remove pan to a wire rack to cool completely.

Chill for a few hours before serving.

If desired, top with whipped cream, remaining chopped walnuts and a sprinkle of cinnamon before serving.
NOTES:
Even if serving at room temperature be sure to chill the cake first!

If you don't have any evaporated milk you can substitute 3/4 cup whole milk and 1/4 cup heavy cream.