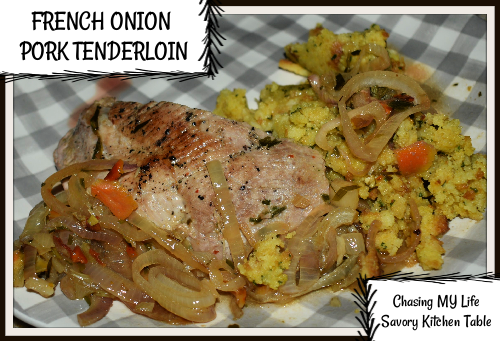 FRENCH ONION PORK TENDERLOIN
LARGE 3 pound pork tenderloin
2 tablespoons avocado oil
2 tablespoons butter
1 SMALL sweet onion, halved and sliced thin
1 SMALL red onion, halved and sliced thin
1 LARGE shallot, sliced thin
several sprigs fresh tarragon, chopped small
FRESH ground sea salt and black pepper
1 package Lipton Onion Soup mix OR KNORR vegetable soup mix
Fresh ground black pepper and salt, to taste
1/4 cup dry white wine
1 1/2 tablespoons butter, melted
1 1/2 cups chicken broth
1/4 cup cream sherry
1 3/4 tablespoons Wonder flour
chopped flat leaf parsley for garnish
Preheat oven to 400°.

Heat 2 tablespoons butter and oil in dutch oven over medium-high heat.

Add onions and saute' until translucent.

Add tarragon and cook 10-15 minutes more until onions are browned.

Generously season pork roast with FRESH ground sea salt and black pepper.

Push onions to the edge of the pan and add pork roast, searing quickly on each side.

Season melted butter and pour evenly over tenderloin.

Whisk together the wine, cream sherry, chicken broth and soup mix. Pour over tenderloin and onions.

Roast 20 minutes.

Reduce oven temperature to 325°.

Roast 30 minutes more or until cooked through.

Remove to cutting board and let rest 10 minutes.

Slice pork.

Serve with mashed potatoes or cornbread stuffing and top with gravy.