I found the original recipe in an old cookbook that called for FRESH strawberries only – never frozen, but I wanted to make them in December when fruit, even FRESH can have virtually no flavor.  So, I have adapted it to use FREEZE DRIED fruit powder, Which opens up all sorts of possibilities for future flavors.  So far we've used strawberry and raspberry – so YUMMY! A shortbread crust topped with a fruit custard are the perfect combo for this sweet and tart bite. I'm anxious to try this recipe as a cherry limeade.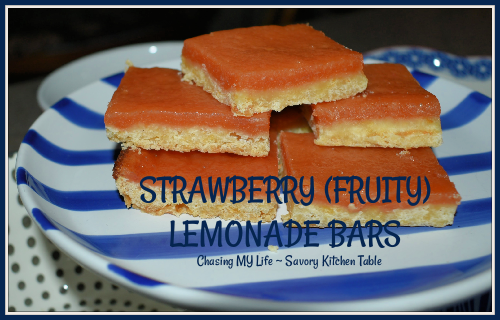 STRAWBERRY (FRUITY) LEMONADE BARS
CRUST
1 1/4 cups AP flour, sifted
1/2 cup sugar
1/2 teaspoon sea salt
1 tablespoon FRESH lemon zest
10 tablespoons unsalted butter, COLD AND CUBED (see notes)
1 LARGE egg yolk
Preheat oven 350°.

Combine the flour, sugar, sea salt and lemon zest quickly in the food processor.

Add COLD, CUBED butter, pulsing until mixtures is coarse crumbs. (see notes)

Add the egg yolk, pulsing until incorporated.

Transfer dough to a 9×9 lightly greased baking dish.

Press dough down evenly.

Bake 18-20 minutes until lightly browned.

Set aside to cool while you prepare the filling. DON'T TURN OFF THE OVEN.
FILLING
12 tablespoons unsalted butter
1 cup sugar
5 LARGE egg yolks
1/4 cup FREEZE DRIED strawberry powder
1 tablespoon FRESH lemon zest
Juice of 4 lemons (1/2 cup)
1/4 cup cornstarch
In a medium saucepan, melt the butter over a low heat.

Remove the pan from the heat and stir in sugar until dissolved.

Let cool slightly.

Mix in egg yolks.

In a food processor combine the lemon juice, lemon zest and strawberry powder.

Add the cornstarch, pulsing to incorporate.

Add the strawberry mixture to the butter mixture and cook over medium heat, stirring continuously, 8-10 minutes until you reach a custard consistency that coats the back of a spoon.

Pour strawberry mixture evenly over the cooled crust.

Bake 10 minutes, until filling is set.

Cool on wire rack 20 minutes.

Transfer to refrigerator for 3-4 hours to chill.

Cut and dust with powdered sugar if desired.

Store in an airtight container in the fridge.
NOTES: If you don't have a food processor, you can make this recipe easily by grating your butter with a cheese grater to make it easier to cut into the flour with a pastry cutter by hand.