The picture could be better, but the flavor of this light and airy bread was fantastic. It makes a wonderful slice of toast also.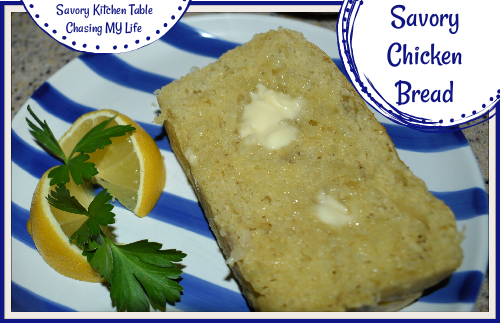 SAVORY CHICKEN BREAD
1 tablespoon sugar
1/4 ounce package active dry yeast
3/4 teaspoon poultry seasoning
1/4 teaspoon sea salt
1/4 teaspoon celery salt
1/4 teaspoon black pepper
2 1/2 – 3 cups all purpose flour
2 tablespoons butter, cubed
3 green onions, minced
7 ounces homemade chicken bone broth
1 LARGE egg, room temperature
In a large bowl combine the sugar, yeast, seasonings and 2 cups of the flour.

Create a well in the center of the dry ingredients and set aside.

In a small sauce pan heat the butter over medium high heat.

Add onions, stirring to cook until tender.

Add broth and stir to mix until you reach 120-130.

Add to dry ingredients and beat on medium 2 minutes.

Stir in enough of the remaining flour to for a soft dough. The dough will be sticky, but that's okay.

Turn dough out onto a well floured surface and knead 5-7 minutes until smooth and elastic.

Place in a greased bowl, turning to coat.

Cover with a towel and place in a warm place to rise until doubled, about 1 hour.

Punch down dough on a floured surface and shape into a loaf.

Place in a greased loaf pan seam side down.

Cover with towel and place in warm place to rise again until doubled, 30-60 minutes.

Preheat oven to 375°.

Bake 18-22 minutes until golden.

Remove from oven and cool on wire racks.