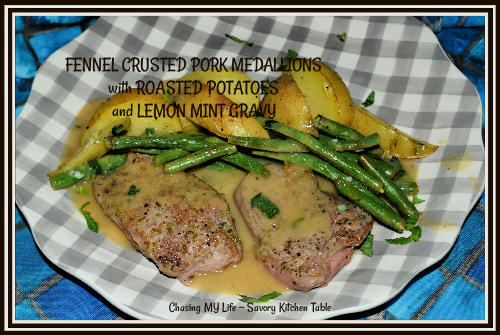 FENNEL CRUSTED PORK MEDALLIONS with ROASTED POTATOES and LEMON MINT GRAVY
Fennel-Crusted Pork Medallions with Roasted Potatoes & Green Beans
Fennel seeds are an aromatic spice, used in savory (and sometimes sweet!) preparations. The seed comes from the fennel plant, a flowering vegetable plant that is part of the carrot family. Here, we use these seeds to make juicy fennel-crusted pork medallions served alongside roasted potatoes and crisp green beans for comfort food at its best.
adapted from Jennie Perillo at Marley Spoon
3/4 cup chicken stock
3/4 pound pork tenderloins
1 lemon, zested and juiced
2 tablespoons FRESH chopped mint
1/2 pound green beans
2 teaspoons fennel seeds, crushed
2 cloves garlic, minced
2 Yukon gold potatoes
1 tablespoon WONDRA flour
1+ 1 + 1 tablespoon avocado oil
FRESH ground sea salt and black pepper
1 + 1 tablespoons butter
Preheat oven to 450°.

Arrange rack in lower half of the oven.

Cover sheet pan in foil for easy clean up.

Scrub potatoes, then cut into even sized wedges.

Toss potatoes with 1 tablespoon avocasdo oil and season with FRESH ground sea salt and black pepper.

Roast 12 minutes until potatoes are golden.

While potatoes are roasting clean wash, trim and cut green beans.

Toss beans with 1 teaspoon avocado oil, lemon zest, 1 tablespoon of the lemon juice, half of the minced garlic, FRESH ground sea salt and black pepper.

Flip potatoes and add green beans to baking sheet along with the potatoes. Roast for another 10 minutes.


Cut pork tenderloin into 4 equal sized pieces and flatten with a meat mallet to about 1/4 inch thickness.

Generously season pork tenderloins with FRESH ground sea salt, black pepper and the crushed fennel seeds.

While vegetables are roasting, heat 1 tablespoon of avocado oil and 1 tablespoon of butter over medium high heat in large skillet.

Add pork to hot skillet and sear for 2 minutes on each side.

Return pork tenderloins to cutting board and cover with foil to rest while you prepare the gravy.

Sprinkle pan with flour and whisk to blend.

Add chicken stock, remaining garlic and remaining lemon juice to skillet, simmering to slightly thicken.
Whisk in remaining mint and 1 tablespoon butter.

Bring to a simmer and cook until sauce reduces slightly, about 2 minutes.

Season to taste and serve immediately.