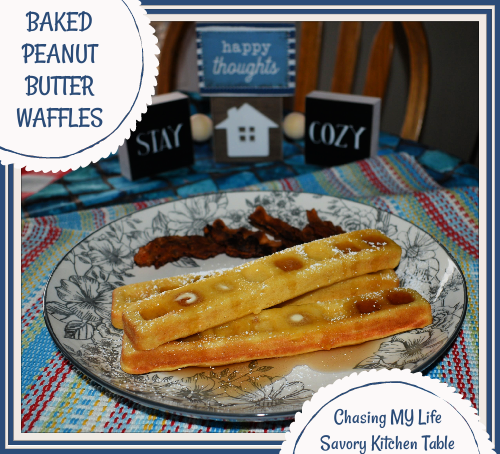 BAKED PEANUT BUTTER WAFFLES
¾ cup flour
3 tablespoon sugar
1 tablespoon baking powder
¼ teaspoon salt
½ cup milk
3 tablespoon neutral oil
2  LARGE eggs
1 teaspoon PURE vanilla
1 tablespoon peanut butter
1 tablespoon QUALITY honey
PURE maple syrup
Preheat the oven to 400°.

Brush the Waffle Stick Pan with a neutral oil.


Sift together the flour, sugar, baking powder and salt in a medium bowl.

In a separate bowl, whisk together the milk, oil, vanilla, peanut butter, honey and eggs.

Whisk the liquid ingredients into the dry ingredients JUST until combined.

Distribute the batter evenly among the wells.

Bake for 11–13 minutes, or until golden brown.

Let the waffle sticks cool for 5 minutes before removing.
OPTIONS:
Add 1-2 tablespoons MINI semi-sweet chocolate chips
Add 2 tablespoons SMALL WILD blueberries
1 teaspoon QUALITY cinnamon