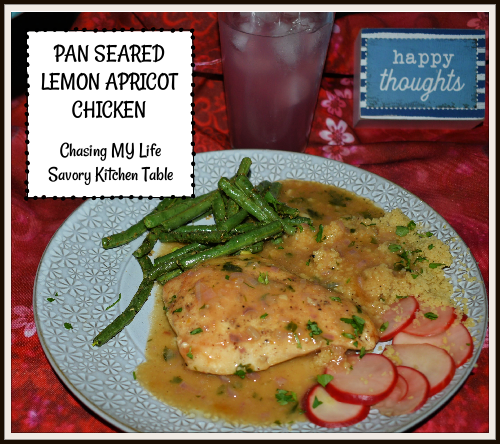 PAN SEARED LEMON APRICOT CHICKEN
LEMON APRICOT CHICKEN
3/4 pound boneless, skinless chicken breasts
2 tablespoons FRESH parsley, finely chopped
1/4 cup apricot preserves
3/4 cup chicken stock
1 LARGE lemon
1 shallot, finely chopped
2 tablespoons avocado oil
FRESH ground sea salt & ground pepper
1 tablespoon WONDRA flour
1 tablespoon apple cider vinegar
1 tablespoon butter
Preheat oven to 450°F with a rack in the top position.


Pat chicken dry, then pound to an even ½-inch thickness.

Season all over with FRESH ground sea salt & ground pepper.

Heat 2 tablespoons oil in a medium skillet over medium-high.

Add chicken and cook until browned and cooked through, 3–4 minutes per side.

Transfer chicken to a plate.


Add shallots to same skillet; reduce heat to medium. Cook, stirring, until softened, about 2 minutes.

Add chicken stock, apricot preserves, ¾ of the parsley and the vinegar. Simmer, scraping brown bits from the bottom of the skillet, until sauce reduces to ½ cup, 5–7 minutes.

Remove from heat, then whisk in butter.


Add chicken and any resting juices back to the skillet. Cook over medium, turning chicken once, until warm and coated in sauce, 1–2 minutes.

Remove from heat.

Season to taste with FRESH ground sea salt and black pepper.

Garnish with remaining parsley. Enjoy!