Be sure to join us for Happy Homemaker Monday and link up
with our host, Sandra at Diary of a Stay at Home Mom

I hope you are all having a great month and starting to see signs of spring wherever you are.  Winter is hanging on here and I'm not trusting that spring is here yet. I'm headed out early so will get this posted quickly.
Off and on rain this week with highs in the low 50's and low's in the high 30's. I have on some comfy levis and a favorite soft and comfy hoodie.

Gerber Carrot Apple Pineapple squeezable and hot water
THIS WEEK'S TO DO LIST, PROJECTS & APPOINTMENTS


LAUNDRY & CLEANING

A couple loads of laundry and some vacuuming to do.



GROCERIES & ERRANDS

I'll get these done early this morning for the week. We're still on a "PAUSE" here so staying home a lot still.



PAPERWORK & PHONE CALLS

We're STILL trying to get some information on questions regarding the sale of the in-laws house and dealing with that nightmare. SIL is being less than straight forward with answers 🙁



RECIPE RESEARCH & MENU PLANNING

I'm waiting on a couple new cookbooks I ordered that should be here this week and then I'll dive in 😀



NETFLIX

Still working on Stargate SG1 reruns



PRIME

I need to check, someone said we can get WW84 here



DISNEY+

I need to finish Wanda Vision, I want to start The Falcon and The Winter Soldier, Secrets of Sulphur Springs



CABLE –

Great American Food Truck Race, Easter Baking Challenge, GGG, DDD, Beat Bobby Flay, Spring Baking Challenge, Tournament of Champions, Clarice, Ellen's Game of Games, Bull, New Amsterdam, The Good Doctor, 911, 911 Lone Star, FBI, FBI Most Wanted, Young Sheldon, The Unicorn, Last Man Standing, MOM, Call Your Mother, NCIS, NCIS New Orleans, NCIS LA, Magnum PI, MacGyver, Blue Bloods, The Resident, Chicago series, Law & Order SVU – I can't wait for the new Law & Order with Elliott's return.

I have some new devotionals from Mary & Martha that I will be working with this week.
It was a cold, rainy, windy, cloudy and lazy weekend here. Saturday was a day of off and on storms with multiple power outages. The only picture I got was of our domino game.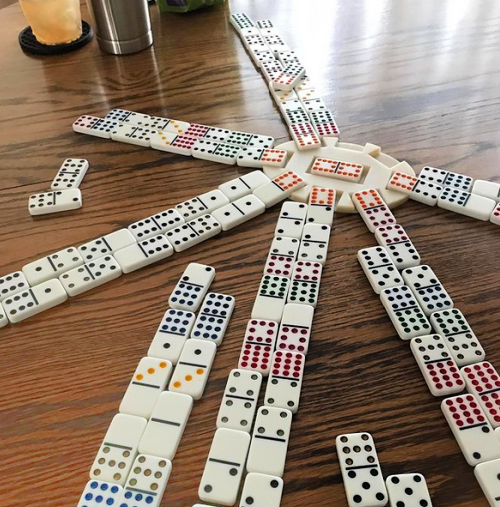 | | | | | | | | |
| --- | --- | --- | --- | --- | --- | --- | --- |
| | MONDAY | TUESDAY | WEDNESDAY | THURSDAY | FRIDAY | SATURDAY | SUNDAY |
| DINNER | HAMBURGER STROGANOFF SKILLET | PORK CHOPS with BAKED APPLES and FARMHOUSE BEER BREAD | ORANGE CHILE CHICKEN & RICE | BEER BRAISED CHICKEN | PORK with APPLE CREAM SAUCE and CREAMY MASHED POTATOES | ITALIAN CHICKEN & RICE | PAN FRIED PORK STEAKS & POTATOES |
| DESSERT | | PISTACHIO BRITTLE or CHOCOLATE CHIP SCONES | | | | | |

SMASHED SUNCHOKES with TARRAGON BUTTER
PUB STYLE SHEPHERD'S PIE
SMOTHERED PORK CHOPS
BEEF YAKISOBA
CRISPY POTATO BALLS
RANCH PORK CHOP SHEET PAN SUPPER

GRANDMA WARE'S SKILLET CORNBREAD
EVERYTHING BAGEL DUTCH BABY
NOT YOUR GRANDMOTHER'S CHICKEN PARMESAN
PAN SEARED CHICKEN with WILTED BRUSSELS SPROUTS
TOMATO BEEF & NOODLES
PAN SEARED CHICKEN with RUSTIC TOMATO GRAVY & FLUFFY BUTTERED MASHED POTATOES