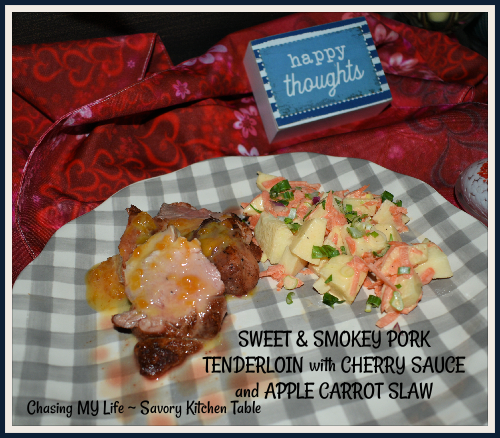 SWEET & SMOKEY PORK TENDERLOIN with CHERRY SAUCE and APPLE CARROT SLAW
PORK
3/4 pound pork tenderloin
2 tablespoons butter
FRESH ground sea salt and black pepper
1 tablespoon of Smokey Cinnamon Spice rub
Adjust rack to middle position and preheat oven to 450°.

Rub pork with a large drizzle of oil.

Season generously all over with FRESH ground sea salt and black pepper.

Reserve ¼ teaspoon of the spice rub in a small microwave-safe bowl for later.

Rub pork all over with remaining spice.

Place pork on a baking sheet and roast on middle rack until cooked through, 18-20 minutes.

Let rest 5 minutes after removing from oven.

Let rest 5 minutes under aluminum foil.
SLAW
2 tablespoons mayonnaise
scant 2 tablespoons champagne vinegar
1 tablespoon sugar
1 cup shredded carrots
1 apple, cored and thinly sliced
2-3 green onions, sliced thin
FRESH ground sea salt and black pepper
In a medium bowl, combine mayonnaise, vinegar and sugar.

Add carrots and toss to coat.

Set aside to marinate 10 minutes.

Add apples and toss to coat.

Add onions and season with FRESH ground sea salt and pepper to taste.
SAUCE
reserved spice rub
1/2 teaspoon champagne vinegar
4 tablespoons cherry jam** (see notes)
2 tablespoons sour cream
1 tablespoon butter
To the bowl with the reserved spice add the jam and remaining vinegar; stirring to combine.

Microwave until warm, 30-45 seconds.

Stir in butter until melted.

Season to taste with salt and pepper.

Blend in sour cream.
SMOKEY CINNAMON SPICE RUB
1/2 teaspoon QUALITY cinnamon
1/2 teaspoon sweet paprika
1/4 teaspoon smoked paprika
1/4 teaspoon onion powder
1/4 teaspoon garlic powder
2 teaspoons sugar
ASSEMBLY
After pork is rested, slice pork crosswise.

Drizzle sauce over pork and serve.
NOTES: Jam can be any flavor that goes with pork. I happened to have apricot in the refrigerator tonight when I made this so color is off a bit from a cherry red. 😀