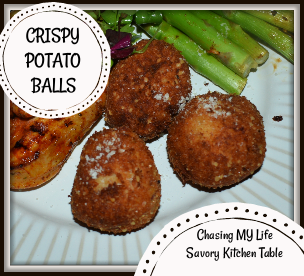 CRISPY POTATO BALLS adapted from REE makes 3 dozen
1 1/2 cups COLD mashed potatoes
3 strips bacon, cooked crisp, cooled and crumbled
1/4 cup WONDRA flour 
1 LARGE egg 
1 tablespoon FRESH chopped parsley, plus more for garnish 
1/4 cup grated Parmesan, plus more for garnish 
1/2 cup shredded mozzarella 
FRESH ground sea salt and black pepper
1/4 + 3/4 cup dried breadcrumbs 
Peanut or Avocado oil, for frying 
Finishing salt 
Mix together the Mashed Potatoes, flour, egg, parsley, 1/4 cup bread crumbs, bacon pieces, Parmesan cheese, mozzarella cheese and FRESH ground black pepper in a bowl.

Place the 3/4 cup breadcrumbs on a large plate.

Form the potato mix into 12 golf-ball-sized balls. The mixture will be a little sticky, so I use clover hands to roll the balls.

Place the balls directly on the breadcrumbs and roll each ball in the breadcrumbs, pressing to make sure they stick well.

Put the bread crumbed balls on a plate.

Cover and freeze for 45 minutes.

Heat 2 inches of oil in a dutch oven to 375°.

Add the balls to the oil and fry until golden brown on all sides, 3 to 5 minutes total. DO NOT CROWD THE PAN.

Remove to a paper towel-lined plate and sprinkle immediately with salt.

Garnish with more Parmesan and parsley.
MASHED POTATOES
5 pounds Red OR Yukon gold potatoes
3/4 cup salted butter
8 ounces cream cheese, softened 
1/2 cup half-and-half OR buttermilk
FRESH ground sea salt and black pepper
Peel and cut the potatoes into pieces of approximately the same size.

Bring a large pot of water to a simmer and add the potatoes.

Bring to a boil and cook until a fork easily slides into the potatoes with no resistance.

Drain the potatoes in a large colander.

Place them back into the dry pot and mash the potatoes, allowing all the steam to escape.

Add the butter, cream cheese and milk and cream together.

Season to taste.