Welcome to Tuesday 4 which we keep going in memory of our dear friend Toni Taddeo. This week's topic is all about cooking. 😀
1.  What is the most valuable kitchen utensil you have or one you use often and could not live without? A good set of sharp knives and crock full of QUALITY utensils. I LOVE my pampered chef mini whips for blending small amounts of sauces and gravies, otherwise my immersion blender works best.
2. Do you have any fancy gadgets like air fryers, etc in your kitchen? How are they working out for you? I have A LOT of gadgets, but I use all that I have.  I LOVE my NINJA Foodie grill in the winter for air frying, grilling, dehydrating, slow cooking…

3. Do you have any step or labor saving ideas that make cooking and meal preparation easier? By menu planning and sticking to it, I can cut the prep work in at least half by chopping veggies all at once on day 1 and then using the portions I need throughout the week.

4. What is your favorite recipe of all time? Would you share it with us? Undoubtedly it's pot roast and homemade applesauce 😀 Here's 2 different versions and my homemade applesauce.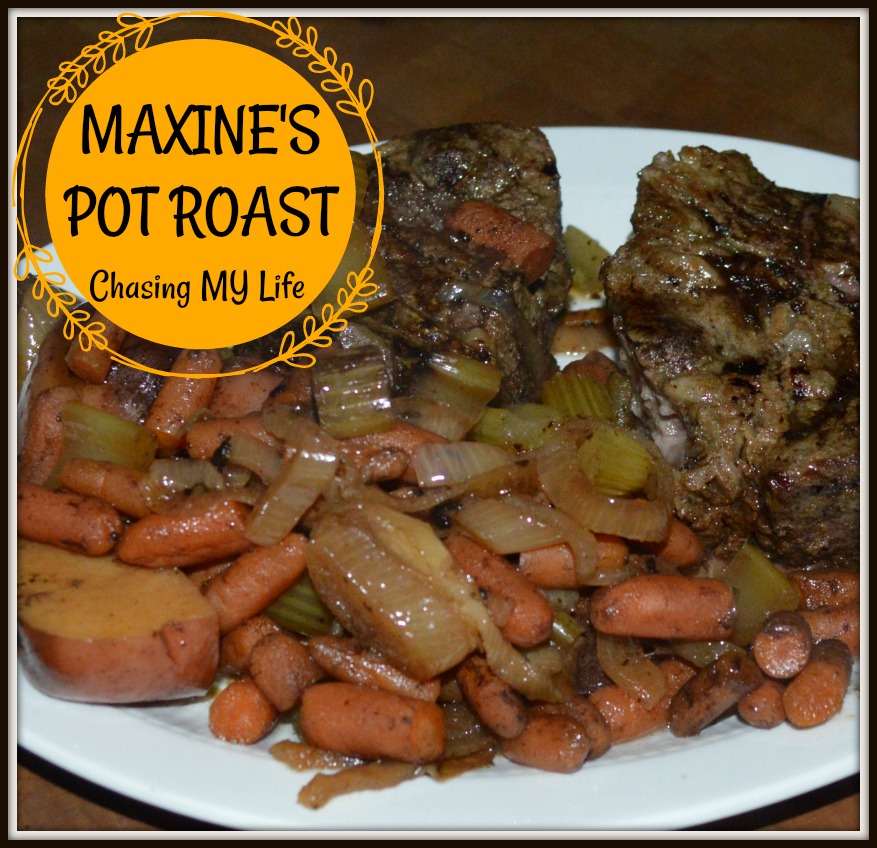 MAXINE'S POT ROAST
2 tablespoons Avocado oil
3 pound boneless chuck roast
1 1/2 teaspoon freshly ground pepper
2 1/2 teaspoon garlic powder
1 1/2 teaspoon onion powder
1 1/2 teaspoon seasoned salt
3 medium red potatoes, washed and quartered
2 celery ribs, washed and large chopped
2 carrots, washed and large chopped
1 LARGE Vidalia onion, large diced
3 cups STRONG brewed coffee
1/4 cup Worcestershire sauce
1 tablespoon Kitchen Bouquet
3 tablespoons butter
1/3 cup Wondra flour
3/4 teaspoon salt
Whisk together 1 1/2 teaspoon ground pepper, 2 1/2 teaspoon garlic salt, 1 1/2 teaspoon onion powder and 1 1/2 seasoned salt.
Rub seasoning mixture over entire roast.
In a large skillet over medium-high heat, brown roast on all sides and edges.
Place roast and potatoes in slow cooker.
Saute' celery, carrots and onions in hot drippings from browning the roast.
Add coffee, Worcestershire sauce and Kitchen Bouquet cooking for 3-5 minutes, loosening any particles stuck to the bottom of the skillet.
Pour over the roast and potatoes.
Cover and cook on LOW 8 hours or until roast and potatoes are fork tender.
Transfer roast and vegetables to a serving platter.
Shred roast with forks, cover and keep warm.
Melt butter in saucepan.
Whisk in flour until golden.
Add to drippings in crock pot, stirring to blend well and cooking until desired consistency.
Serve with Mashed potatoes, vegetables and roast.
MY SUPER SAVORY POT ROAST & VEGGIES
I love Pot Roast. I adapted grams old recipe to my family and their likes.
3+ pound Pot Roast
2 medium Onions
1 bag baby carrots
3 Tablespoons Avocado Oil
3 large Yukon potatoes~scrubbed clean, but not peeled
Kosher Salt
White & Black Pepper
2-3 LARGE cloves garlic, minced
1 teaspoon rosemary
1 teaspoon thyme
1 teaspoon Pampered Chef Rosemary mix
Beef bullion
Red Wine (2 cups) OR White Wine (2 cups) or plain old broth (2 cups) or combination of the three.
Pre-heat the oven to 350°. The meat you use is important. My favorite roast is the chuck roast because it has wonderful marbling throughout the meat, and when cooked right (prep, cover, cook ~ don't fiddle with it while it's in the oven) any chuck roast winds up being tender and melt-in-your-mouth delicious. Be aware that the tougher the piece of meat is, the longer it needs to cook so that the connective tissue will soften and break down. You truly can't rush a pot roast, you'll be disappointed if you try as it will be dry or lack flavor. BE PATIENT. You want the meat to basically fall apart. You SHOULD NOT need a knife to cut it.
Bring the piece of meat to room temperature.
GENEROUSLY sprinkle the first side of meat with the Kosher Salt and Pepper mix.
Heat enough avocado oil in the bottom of a fry pan on medium-high heat to make a thick coating.
Cut the onions tip to root, cut off root and stem, peel and lay flat into hot oil. Brown both sides well.
Remove to side.
Add the baby carrots and do the same. I normally cut each carrot just in half. Brown carrots (you're aiming more for color here than cooking them). They will have plenty of time to cook in the oven.
Add garlic and spices at this point. By this time I have put them all into a mortar and pestle to revive their scents and aromas.
When carrots are finished, remove them to the same plate as the onions. If necessary add more olive oil to the pan and add the roast seasoned side down. While it's browning season the other side really well. Brown both sides and all edges really well.
Now, for the oven I like to use my grandma's old Magnalite dutch oven which cooks really even! And see those little hobnail bumps in on the bottom side of the lid? Those are better known as drip catchers. They collect the steam from the juices and redistributes it all right back down on the roast as it cooks. These help keep the meat moist and juicy.
After the roast is browned, place it in the dutch oven and spread vegetables all around it.
While fry pan is still hot, add white or red wine and the beef bullion to deglaze the pan ~ make sure you scrape up all the stuck little bits from the bottom. Cook long enough to mix well and then pour over the roast. The liquid should come up at least half way on the sides of the roast and vegetable mixture. For this recipe we added the white wine to the recipe and drank the red. The red wine, Harrod wine, is from our nephew's vineyard so we don't waste it cooking, but enjoy every last drop.
Put the lid on the dutch oven, put it in the oven, don't open the door for AT LEAST 3 hours! Today's roast was 2.39 pounds and I roasted it for 3 1/2 hours. Go relax or at least get the dishes you've dirtied so far done up. At 3 hours, I prep the potatoes for boiling. I prefer not to cook mine with the roast  every time ~ sometimes I prefer a bit of substance instead of the mush they can become with the roast. I do a basic mashed with heavy cream, salt, pepper, and butter (hey you gotta splurge a little sometimes!)
HOMEMADE APPLE SAUCE
5 large Apples (I like Pink Lady, Honey Crisp or Braeburns)
1/2 cup golden raisins
1 can peach nectar (Papaya or pineapple are good too)
1 teaspoon cinnamon
1 cup sugar
1 cup water
In a large sauce pan pour nectar over raisins and let sit while you prepare apples.
Wash, core, peel and chop apples.
Add water to sauce pan and stir in sugar until dissolved.
Add cinnamon and mix well.
Add apples and cook over medium heat until until apples are tender and mush easily.
Mush to desired consistency.
Remove from heat.
Cool and chill.
Can be kept in refrigerator for a week though it never lasts that long around here. When my apples are at the height of the season and falling off the tree I make this in huge batches and put it up in canning jars for the following year.
LAVERNE DEFAZIO ROAST
1 can Pepsi
3+/- pound pot roast, with good marbling
1 large onion, sliced thin
1 cup buttermilk
1/2 pound mushrooms, cleaned and chopped
2 teaspoons minced garlic, jar
1 package KNORR brown gravy mix
1 tablespoon Better than Bouillon Beef base
Kosher salt and white pepper
Bring roast to room temperature.
Preheat oven to 325 degrees.
Brown the roast, generously ~ salt and peppering it.
Whisk together the milk, pepsi, bouillon base and gravy mix.
Surround roast with onions and mushrooms.
Pour Milk/Coke mixture over roast.
Bake for at least 3 hours undisturbed. Depending on the thickness of the roast it will probably take 4-5 hours for a thick 3 pound roast until the meat begins to fall apart. You should be able to cut your roast with a fork.
The combination of ingredients makes its own gravy that is soooooooooooooooooo good.