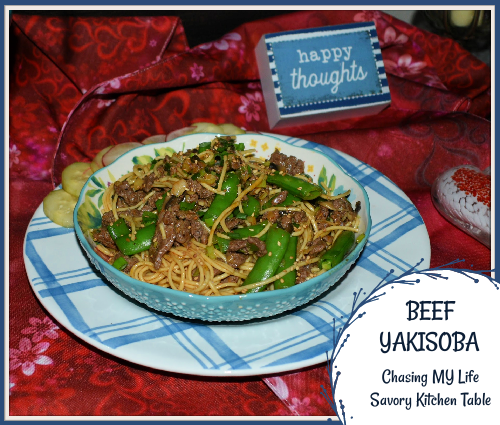 BEEF YAKISOBA
1 tablespoon avocado oil
1/2 pound shaved top sirloin steak
6 ounces soba noodles, prepared per package directions
3/4 – 1 inch chunk of ginger, cleaned and minced
1 cup snap peas, trimmed
1 bunch green onions, sliced thin
6 mushrooms, clean and sliced
1/4 cup Yakisoba sauce (recipe below)
1/4 cup water
1/4 cup beef broth
1 tablespoon toasted sesame seeds
Heat oil over medium-high heat in large skillet.

Add steak strips and stir fry 3-5 minutes until browned and cooked through. With a slotted spoon remove to a plate.

Add mushrooms, sautéing 3-5 minutes until softened and fragrant.

Add ginger and snap peas, sautéing another 2-3 minutes until peas are crisp-tender.

Return beef and half of the scallions to the pan, stirring to mix.

Add noodles and toss well.

Whisk together the water, beef stock and yakisoba sauce.

Add to pan and toss to coat in sauce as you heat through 1-2 minutes.

Garnish with remaining green onions and sesame seeds.
HOMEMADE YAKISOBA SAUCE

4 tablespoons Worcestershire sauce (If you can find it, the Japanese brand "Bulldog" Worcestershire sauce is milder and less sour than Lea & Perrins Worcestershire sauce)
4 teaspoons oyster sauce
4 teaspoons ketchup (Some ketchup is sweeter than others, adjust accordingly for flavor)
2 teaspoons Bragg's Liquid amino (less sodium than soy sauce, but same flavor)
2 teaspoons sugar (Adjust as needed)
Whisk all the ingredients together.

TASTE

and adjust to your liking.

Set aside.
You can store in a mason jar or airtight container for up to a month.