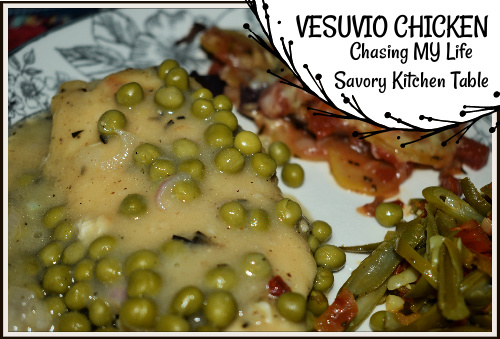 This classic Italian dish looks extravagant, but is a relatively easy one pan meal AND yet looks and tastes like you worked all day on it.
CHICKEN VESUVIO
1/4 cup WONDRA flour
2 thin chicken steaks
2 tablespoon avocado oil
1 tablespoon butter
FRESH ground sea salt and black better, to taste
3/4 pound baby potatoes, peeled and quartered
2 cloves garlic, minced
1 tablespoon FRESH chopped thyme leaves or oregano
1 teaspoon FRESH chopped rosemary leaves
1 cup chicken broth
1/4 cup dry white wine
1 can Le Seur peas, drained
2 tablespoons unsalted butter, COLD and DICED
Juice of 1 lemon
Generously season chicken steaks with FRESH ground sea salt and black pepper.

Add flour to shallow bowl.

Heat 1 tablespoon of the oil in a skillet over medium-high heat.

Dredge chicken steaks in flour, shaking off excess, and add to hot oil.

Sear chicken 2-3 minutes per side.

Transfer to plate and keep warm.

Heat remaining oil in skillet.

Add potatoes, sautéing 7-8 minutes until cooked through and edges are crispy.

Stir in garlic and herbs, seasoning with FRESH ground sea salt and black pepper to taste, sautéing until fragrant.

Add wine, scraping up bits from bottom of pan to mix.

Add broth and simmer 10 minutes until slightly thickened.

Return chicken to pan, reduce heat and simmer 5 minutes until chicken is well coated and cooked through.

With a slotted spoon remove chicken and potatoes to plate and tent to keep warm.

Off heat stir in lemon juice and COLD butter until smooth.

Fold in peas and serve over chicken steaks.