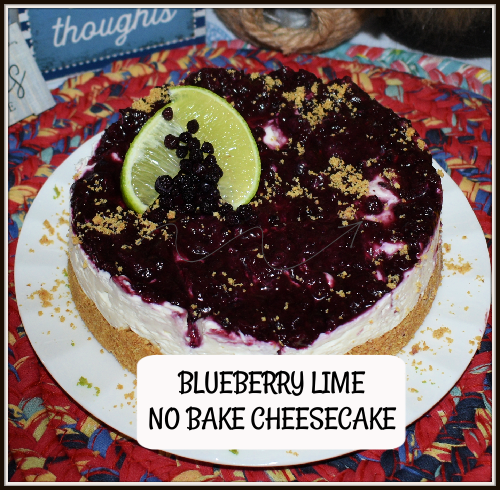 BLUEBERRY LIME NO BAKE CHEESECAKE
CRUST
1 3/4 cups graham cracker crumbs
1/2 teaspoon ground ginger
1/4 cup packed brown sugar
1/3 cup unsalted butter, melted
Stir together the graham crackers, ginger and brown sugar.

Add the melted buttered mix until well blended.

Press the crumbs firmly into bottom of a 9 inch springform pan.

Place in refrigerator while you prepare the sauce and cheesecake.
SAUCE
1 1/2 cups WILD blueberries
1/8 cup sugar
1 tablespoon water
Stir together the blueberries, sugar and water in a medium saucepan.

Cook over 5 medium heat 5 minutes until berries break down.

Use an immersion blender to blend well.

Pour entire mixture through a sieve into a clean sauce pan.

Cook a few minutes on medium heat until mixture thickens slightly.

Cool in refrigerator also while preparing cheesecake.
CHEESECAKE
3/4 cup heavy whipping cream
2-8 ounce cream cheese, softened at room temperature
1/3 cup sugar
1 tablespoon lime zest
2 tablespoons powdered sugar
1 teaspoon PURE vanilla
2 teaspoons FRESH, FINELY grated ginger
Whip whipping cream 2-3 minutes in the bowl of a stand mixer bowl until stiff peaks form.

Transfer whipped cream to a clean bowl and refrigerate.

Add cream cheese and sugar to stand mixer bowl.

Mix on medium 2-3 minutes until creamy and smooth.

Add line zest, powdered sugar, vanilla and fresh ginger, mixing 1-2 minutes until fully incorporated.

GENTLY (so as not to deflate the whipped cream) fold in one third of the whipped cream with a spatula to lighten the cream cheese.
GENTLY fold in remaining whipped cream until ALMOST fully incorporated.

Pour over chilled crust and smooth out evenly.

Drop several spoonfuls of blueberry sauce over cheesecake.

Using a thin knife or wooden skewer, swirl sauce into cheesecake.

Chill at least 2 hours before serving.
LIME WHIPPED CREAM
1 cup heavy whipping cream
2 teaspoons lime zest
1 teaspoon powdered sugar
Whip the whipping cream on high 3 minutes until stiff peaks form.

Add the lime zest and powdered sugar, whipping until incorporated.

Serve the cheesecake with a dollop of whipped cream and a drizzle of blueberry sauce.
NOTE:
Using a copper mixing bowl and beaters that have been chilled in the freezer make a for quicker whipping and fluffier whipped cream.

Blackberries substitute really well also.