Be sure to join us for Happy Homemaker Monday and link up
with our host, Sandra at Diary of a Stay at Home Mom

I hope you have had a great weekend so far. Being military, Memorial day is quite somber for us as hubby becomes quite affected by having lost friends while he was in country.
There has been quite a bit of discussion on the significance of Memorial Day recently. This meme spells it out quite well.
We did have a couple nice lunches out and did some antiquing yesterday. I kept meals simple and was able to score a fantastic watermelon for the warmer weather we're having.
It is supposed to be in the 90's here the next couple days (pretty unusual for the Pacific north west in May) and then cool back down to our more normal 70's for a few days before heading back towards the 80's.
I've been helping my mom get ready for a garage sale father's day weekend and we have been cleaning out attics, sheds etc… so it's been hot, dusty, musty and sweltering at times getting things down and out for her to sort through. 
So far it has been quite productive!! with many boxes of 20-30 year old files to go to the shredder, several bags going to e-waste, the trash barrel and recycling almost full (the trash man just came Friday 😀 ), but we'll make it work. Whatever is left is getting priced and what doesn't sell will get donated 🙂

Hot water and peach yogurt
THIS WEEK'S TO DO LIST, PROJECTS & APPOINTMENTS


LAUNDRY & CLEANING Laundry is caught up and everything is pretty tidy, but need to pull out some summer clothes. Also, please tell me why it is that

ALL

my favorite blouses need ironing and are in the ironing pile all at once??

GROCERIES & ERRANDS

No grocery shopping today since it's a holiday, but I will head into town tomorrow for a Walmart run and groceries.



PAPERWORK & PHONE CALLS

still working on a stack of paperwork, but hope to make some serious headway this week.

PROJECTS, CRAFTS & PAINTINGS

I have been restoring an old hope chest. Hubby sanded it down for me, uncovering 3 coats of paint (white, black and yellow) and a layer of contact paper on the outside before reaching wood. 😀 Fortunately, they never marred the inside and the cedar is in pristine condition. I did oil the inside with orange oil and have relined the cubbies with new felt on the swing shelf. Unfortunately, I forgot to take before pictures! I painted it with a primer coat followed by a coat of the same candy apple red I had left from when I painted the last chest and then 3 coats of the Milano Teal blue.



RECIPE RESEARCH & MENU PLANNING

I have made the menu plan through mid June and am researching a few celebrity recipes (Molly Yeh and Valerie Bertinelli) for later in June.
NETFLIX

Finish season 10 STARGATE SG1, Army of the Dead, Looking forward to Sweet Tooth that begins on the 4th

DISNEY+

Mandalorian

CABLE

All caught up on what we missed while we we're gone and now we'll reevaluate all the streaming services

I finished Jana DeLeon's Frightfully Fortune. I've been so tired by the time I go to bed at night lately I have hardly been reading at all 🙁 though I have several titles in que to begin, just not sure which I'll read first 😀

The Lost and Found Book Shop by Brenda Novak

While My Sister Sleeps by Barbara Delinsky
I wish I'd remembered to take before pictures, but I didn't 🙁 The first box here I found in an antique store for $10. It was painted in the ugliest black and duck tole pattern, but I loved the shape and feel of the box. When I opened the box though I saw the most beautiful wood on the inside so I took a chance and bought it. Hubby sanded it for me and we found a nicely made box with pegwork and dovetails. After 2 coats of English Chestnut stain this is what I have 😀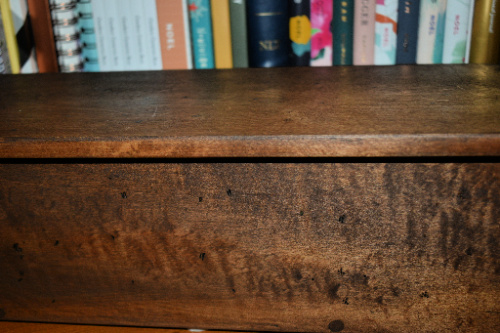 In a nearby antique store on the same trip I found an OLD cedar hope chest that had been painted white, yellow and black at different times as you can see from the side of the drawer that still needs repair and hubby is working on fixing it before he sands it. I'm also going to add a knob of some sort to the drawer as it is hard to open. At first when the entire thing was white you couldn't even tell there was a drawer there. 😀

I was able to pick it up for $60! which was an awesome deal.  With the new lock, paint and repairs we still have less than $100 in it. Most of it has been elbow grease 😀

It is difficult to find the right depths of wood cuts sometimes and he has become a champ at modifying new pieces to fit 😀 Our bedroom is done in teal and gray so I am absolutely LOVING this Milano Teal blue color (though the picture makes it look more robin egg's blue) on this chest. It will be used solely as a blanket chest.

The inside was in beautiful condition and with a little new orange oil looks like new!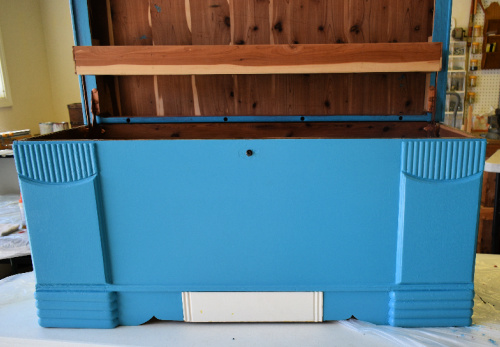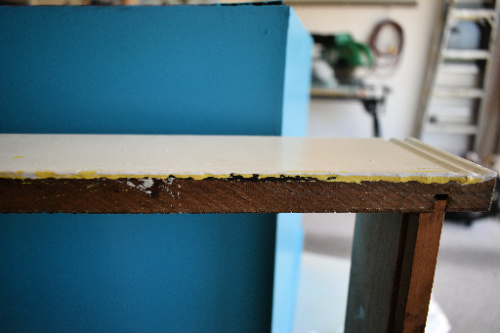 | | | | | | | | |
| --- | --- | --- | --- | --- | --- | --- | --- |
| | MONDAY | TUESDAY | WEDNESDAY | THURSDAY | FRIDAY | SATURDAY | SUNDAY |
| DINNER | BBQ PORK TENDERLOINS | CHICKEN in HERB SAUCE & BALSAMIC CARROTS | BBQ PORK SANDWICHES & COLESLAW | C.O.R.N. CLEAN OUT REFRIGERATOR NIGHT | LONDON BROIL NIGHT @ the EAGLES | BARNYARD BREAKFAST PIE HAMBURGER STEAKS & TATER TOTS | Y.O.Y.O. |
| DESSERT | | CHOCOLATE CHIP SCONES and LEMON CAKE | | | | | |


AVOCADO & PICKLED RED PEPPER SALAD
PORK SCHNITZEL
GERMAN BRAISED RED CABBAGE