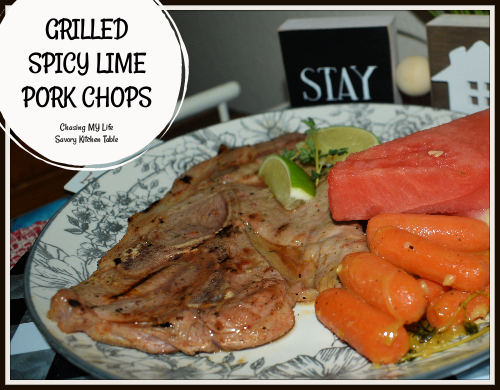 GRILLED SPICY LIME PORK CHOPS
6 bone-in pork chops
1 cup salad dressing Italian style
1/2 cup apple sauce
1/4 cup Worcestershire sauce
1/4 cup Frank's hot sauce
1 LARGE lime juiced
Whisk together the Italian dressing, apple sauce, Worcestershire sauce, hot sauce and lime juice.

Place pork chops in large container in a single layer.

Pour marinade over chops, cover and let chops marinate 8-12 hours.

Pre-heat grill to medium and oil grate
.

Remove chops from marinade.

Pour marinade into sauce pan and heat over medium heat to a SLOW boil
.

Let marinade boil for at least one minute then remove from heat
.

Place chops on grill and baste occasionally.


Grill for 6 to 8 minutes per side until browned and no longer pink
.