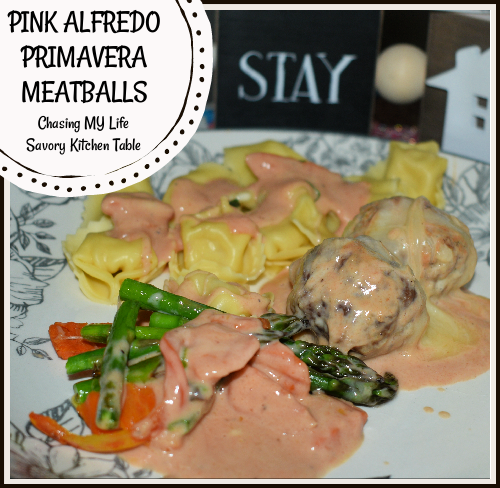 PINK ALFREDO PRIMAVERA MEATBALLS
MEATBALLS
1/2 pound ground sirloin
1/2 pound ground pork
1/2 pound sweet Italian sausage
1/2 teaspoon crushed red pepper flakes
1 teaspoon dried oregano
1/2 SMALL onion, FINELY chopped
2 LARGE cloves garlic, minced
2 tablespoons avocado oil
In a large bowl mix together ground meats, seasonings, chopped onion and garlic until

well blended.

Form into golf ball sized meatballs.

Heat oil in cast iron skillet over medium heat.

Sear meatballs, turning often, until browned.

Transfer to paper towels to drain.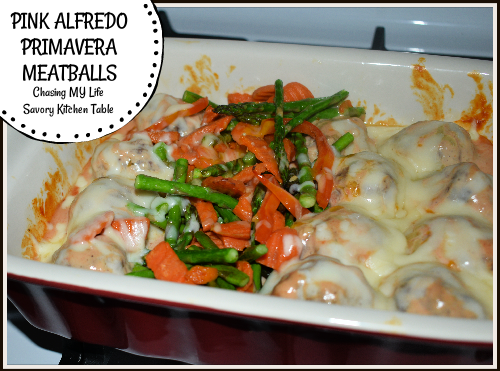 PINK ALFREDO SAUCE
2 tablespoons butter
1/2 cup heavy cream
1 teaspoon minced garlic, jar
1 tablespoon Classico sun-dried tomato paste
1 egg yolk, beaten
1/4 teaspoon thyme
salt and pepper to taste
3/4 cup grated Parmesan cheese
Melt butter in a saucepan.

Add garlic and saute until fragrant.

Gradually add heavy cream, stirring constantly. Stir in salt, pepper and grated Parmesan cheese and stir constantly until melted.

Whisk in egg quickly and heat through.
VEGETABLES
1 tablespoon butter
1 tablespoon avocado oil
1/2 pound asparagus, trimmed and cut into 2 inch pieces
2 carrots, peeled and cut into 2 inch matchsticks
1/2 cup frozen petite peas, thawed
Melt butter and oil in a large sauce pan.
Add carrots, sauteing 3-5 minutes until begin to soften.
Add asparagus pieces, sauteing a couple minutes more.
Fold in peas.
ASSEMBLY
1 /2 cup shredded mozzarella cheese
Spread half the sauce on the bottom of your baking dish.
Arrange meatballs on sauce.
Arrange vegetables around meatballs.
Pour remaining sauce over top.
Top with cheese.
Bake 10-15 minutes until heated through and cheese is melted.