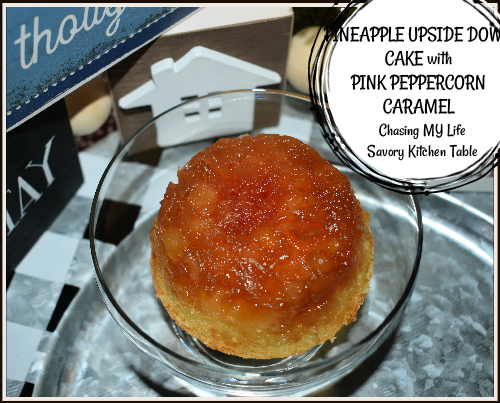 PINEAPPLE UPSIDE DOWN CAKE with PINK PEPPERCORN CARAMEL adapted from Alex Guarnaschelli
CAKE
8 tablespoons unsalted butter, softened
1 large pineapple, skinned, cored and cut into eight or nine 3/4-inch-thick slices  OR 1 LARGE can of pineapple slices or crushed works too
3/4 cup dark brown sugar 
1/2 cup WHOLE buttermilk  (do NOT use light or reduced fat)
1 teaspoon PURE vanilla extract
2 LARGE eggs, lightly beaten 
1 cup all-purpose flour 
3/4 cup granulated sugar 
1 teaspoon kosher salt 
3/4 teaspoon baking powder 
1/4 teaspoon baking soda
Maraschino cherries 
Preheat the oven to 350°.

Heat a cast iron 9-inch skillet over medium heat and melt 2 tablespoons butter.

Add the slices of pineapple in a single layer and sprinkle the brown sugar over the fruit.

Add a maraschino cherry in the center of each pineapple ring.

Cook until the pineapple browns slightly, 2 to 3 minutes. Flip the pineapple slices. Turn off the heat and keep warm.

Whisk together the buttermilk, vanilla, eggs and the remaining 6 tablespoons butter in a medium bowl until smooth.

Use a rubber spatula to stir in the flour, granulated sugar, salt, baking powder and baking soda until completely smooth. (The batter will be fairly stiff)

Pour the batter over the pineapple.

Transfer the skillet to the center of the oven and bake until a toothpick inserted in the center of the cake emerges clean, 40 to 45 minutes.

Cool for about 10 minutes before carefully inverting onto a serving platter. Cooling any longer may make cake stick. If you cool too much, quickly heat the bottom of the skillet before inverting.
CARAMEL
1 cup granulated sugar
2 tablespoons light corn syrup 
Juice from 1 LARGE lime 
1/4 cup COLD water
2 teaspoons (pink) peppercorns 
Combine the granulated sugar, corn syrup, lime juice and 1/4 cup cold water in a medium stainless saucepan.

Stir in the pink peppercorns and bring to a gentle simmer, cooking until the sugar is dissolved, and then cooking 10 minutes more.

Pour through sieve to remove large pepper pieces.

Set aside to cool slightly.

After cake is inverted pour the caramel over the cake.