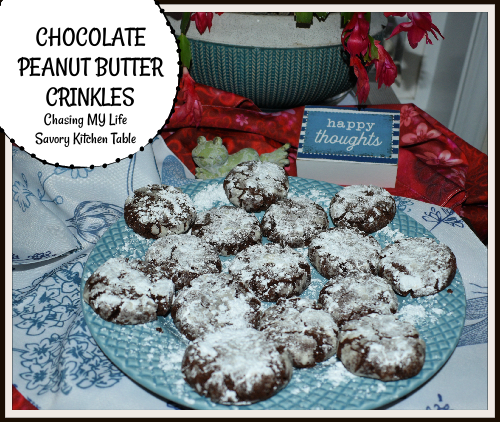 CHOCOLATE PEANUT BUTTER CRINKLES COOKIES yields 3 dozen cookies
8 ounces chopped bittersweet chocolate or chocolate chips, about 1 1/3 cup
1/4 cup unsalted butter
1/4 cup JIF creamy peanut butter
2/3 cup granulated sugar
3 LARGE eggs
2 teaspoons PURE vanilla extract
1 1/4 teaspoons instant espresso powder (optional)
1/2 teaspoon baking powder
1/4 teaspoon kosher salt
1 2/3 cup all purpose flour
1 cup powdered sugar for coating
Sift together the flour, baking powder and salt. Set aside.

Melt the chocolate, butter, and peanut butter in a small saucepan over medium heat or in microwave-safe bowl with 15 second increments. Once the butter has melted completely, remove the bowl from the heat and stir until the chocolate also melts completely and the mixture is smooth.


In a large mixing bowl, beat together the sugar, eggs, vanilla extract, and espresso powder until well combined.

Add the chocolate mixture, stirring until combined.

Stir in the flour just until it disappears. The dough will seem very, very soft. Cover the bowl and chill the dough for at least 3 hours or overnight so it firms up.


When ready to bake, preheat the oven to 325°.

Line a baking sheet with a silicone baking sheet or parchment paper and set aside.

Place 1 cup powdered sugar in a wide, shallow bowl.


Scoop out heaping teaspoon-sized portions of dough and roll into balls that are 1 1/4 inches in diameter. 

Place 4-6 balls of dough in the powdered sugar, then gently roll and toss the balls to coat completely DON'T DO TOO MANY AT ONCE OR THEY WILL STICK TOGETHER.

Shake off excess sugar, then place on the prepared baking sheet, leaving 1 1/2 inches between each because the cookies will spread as they bake. 


Bake for 10 minutes, rotating the pan halfway through the baking time and if you are baking multiple cookie sheets at the same time, switch the top and bottom pans.

When the tops are dry and just set, remove the cookies from the oven.

Let cool on the baking sheets for 2 minutes, then transfer to a wire rack to cool completely.

NOTE:
DO NOT

use the natural peanut butter – the kind that must be refrigerated – the cookies will not bake properly!

The espresso powder is optional, but using it really enhances the chocolate flavor 😀