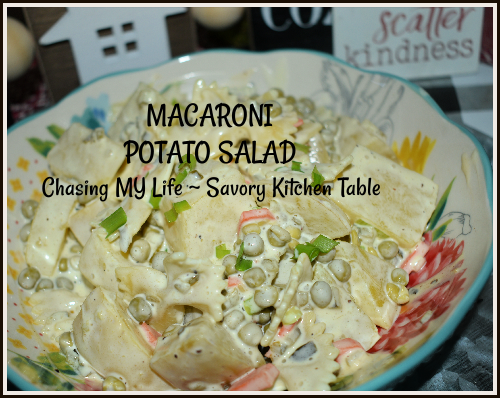 MACARONI POTATO SALAD adapted from A Spicy Perspective
2 pounds Russet potatoes, peeled and chopped into half inch cubes
12 ounces macaroni
1/2 cup FINELY minced Vidalia onion
1 large carrot, coarsely shredded
1 can Le Suer peas, drained WELL
1 LARGE bunch green onions, minced
1 1/2 (+as needed) cups Duke's mayonnaise
1 cup sweet pickle relish
2 tablespoons apple cider vinegar
1 teaspoon mustard (optional)
FRESH ground sea salt and black pepper
Cut the potatoes into 1-inch cubes and place them in a large stock pot.

Fill the pot with cold water until it is one inch over the top of the potatoes.

Set the pot over high heat and bring to a boil.

Once water is boiling, add 1 tablespoon salt and cook the potatoes for 5 minutes.

After 5 minutes, add the macaroni noodles, stirring to combine and continue boiling for 6-8 minutes, until the pasta is al dente.



Meanwhile, in a medium bowl mix the mayonnaise, sweet pickle relish including juices, apple cider vinegar, mustard if using, allspice, FRESH ground sea salt and pepper to taste, stirring until smooth.

Use a grater to shred the onions and carrot.


Drain the potatoes and macaroni in a colander and place in a large salad bowl.

Add in the onion, carrots, peas, and scallions.

Pour the dressing over the top and mix until well combined.


Cover the potato macaroni salad and refrigerate for at least 4 hours.
NOTES:
If you have time, make the salad a day or so ahead of when you want to serve it. It tastes even better on day two!

Keep refrigerated in an airtight container for up to one week.


You can make this with unpeeled new potatoes for a slightly different texture. Follow the instruction as is, yet leave the potato skins on when you chop them.