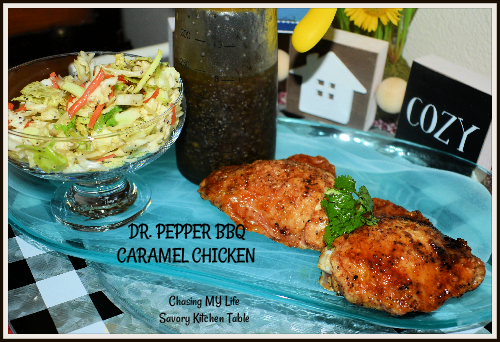 DR. PEPPER BBQ CARAMEL CHICKEN
12 ounces Dr. Pepper
1/2 cup Heinz chili sauce
2 tablespoons champagne vinegar
1 tablespoon vinegar
2 cloves garlic FINELY minced
FRESH ground sea salt and black pepper, to taste
3-4 pounds of your favorite chicken pieces or wings
In a large sauce pan whisk together the Dr. Pepper, chili sauce, vinegar, garlic and sugar over a medium high heat and bring to a SLOW boil.
Reduce heat to medium low and simmer 20 minutes or so, stirring often until reduced and thickened. Set aside.
Prepare grill to medium direct heat grilling. (I use a non-stick spray).
Generously season the chicken with the FRESH ground sea salt and black pepper.
Place chicken skin side down over direct heat and sear 5 minutes.
Flip chicken skin side up to indirect heat. Close lid and cook 25-30 minutes until chicken is JUST about cooked through. (No blood or pink meat)
Generously brush chicken with sauce ever 5 minutes for 15-20 minutes more.