I'm still featuring my Mary & Martha GRACE meal prayer box on Faith and Food Friday, hosted by Sandra at Diary of a Stay at Home Mom.

THIS WEEK'S PRAYER:
Oh, the Lord is good to me. And so I thank the Lord for giving me the things I need. The sun and the rain and the apple seed. The Lord is good to me. Amen.
ANTIPASTO SALAD adapted from Valerie Bertinelli
VINAIGRETTE
2 tablespoons QUALITY red wine vinegar
1 teaspoon Dijon mustard  (optional)
1/2 teaspoon Calabrian chile paste, crushed red pepper flakes or sriracha 
1/2 teaspoon dried Italian seasoning 
1/2 small shallot, minced 
FRESH ground sea salt and tri-color pepper
3 tablespoons avocado oil 
Whisk the vinegar, mustard if using, chile paste, Italian seasoning, shallot and 1/4 teaspoon salt together in a small bowl.

Gradually whisk in the avocado oil.

Pour into a cruet and shake.
SALAD
4 radishes, thinly sliced (watermelon OR yellow radishes if you can find them)
2 celery heart ribs, thinly sliced 
1 romaine heart, cut into 1/2-inch-wide strips 
1/2 head iceberg lettuce, cut into 1/2-inch-wide strips 
1/4 pound provolone, cut into 1/4-inch cubes 
1/4 pound mozzarella balls
1/4 pound Genoa salami, cut into 1/4-inch cubes 
1 cup cherry tomatoes, halved 
3 tablespoons sliced pickled pepperoncinis
3 tablespoons sliced pickled cherry peppers
Combine the radishes, celery, romaine, iceberg, provolone, salami, tomatoes, pepperoncinis and cherry peppers in a large salad bowl.

Toss with the vinaigrette and serve immediately.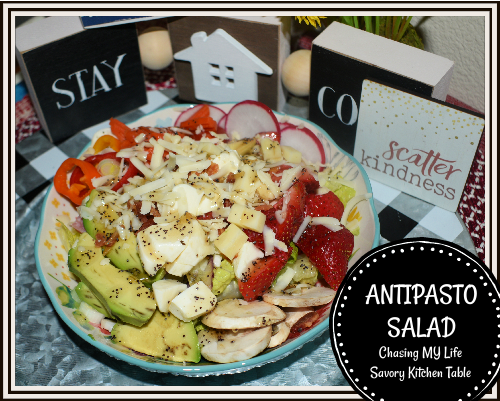 NOTE:
I like to add a generous drizzle of a QUALITY balsamic glaze.
I also like to refer to this as a kitchen sink salad because I use up whatever is in my crisper bins and deli drawer 😀