I'm still featuring my Mary & Martha GRACE meal prayer box on Faith and Food Friday, hosted by Sandra at Diary of a Stay at Home Mom.

THIS WEEK'S PRAYER: Thank You Lord, for good things to eat, for refreshing things to drink, for the love and laughter we share, for the blessings. You pour on us each day. We love You! Amen.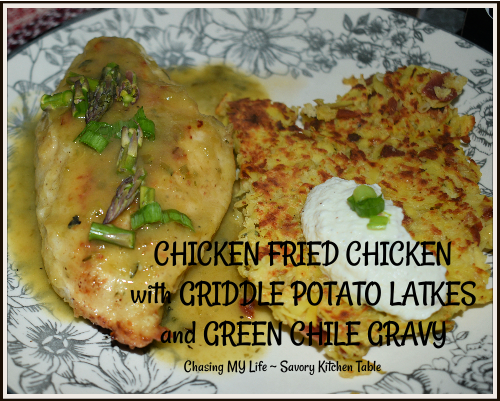 CHICKEN FRIED CHICKEN with GRIDDLE POTATO LATKE and GREEN CHILE GRAVY
CHICKEN
2 LARGE boneless chicken breasts
1 cup buttermilk
1/2 cup Wondra
1 teaspoon salt
1 teaspoon pepper
2 LARGE eggs
1/2 cup Panko crumbs
2-4 tablespoons butter (enough to keep chicken from burning~add as necessary)
Rinse and pat dry the chicken breasts.

In a shallow glass pan, pour buttermilk over chicken 1-2 hours prior to cooking.

Make sure to coat chicken well and turn at least once during soaking.

Drain, but do NOT rinse the buttermilk off.

In a medium sized fry pan melt the butter over medium heat. As butter melts and begins to very slightly sizzle, prepare breasts.

In a shallow pan mix together the flour, salt and pepper.

In another shallow pan whisk eggs until well blended.

In another shallow pan add Panko crumbs.

One at a time, dredge each chicken breast in flour mixture, then egg mixture and then Panko crumbs.

Add to sizzling butter.

Cook 4-6 minutes each side depending on plumpness.

Keep chicken warm.
POTATO LATKE
2 pounds russett potatoes
1 SMALL bunch green onions
several sprigs FRESH thyme
FRESH ground sea salt and black pepper
2 LARGE eggs, lightly beaten
3-4 slices crumbled bacon pieces
Drape a clean cheesecloth over a colander.

Grate the potatoes and onion and place inside the lined colander.

Sprinkle with salt, toss and let drain in the sink for 20 to 30 minutes.

Squeeze as much moisture as possible out of the potato-onion mixture.

Combine with FRESH ground sea salt and black pepper, lemon juice, lemon zest, beaten eggs, bacon pieces and panko and in a medium bowl and mix to form a pasty mixture.

Fold the thyme into the mix.

Cover with plastic and refrigerate for 30 minutes to 1 hour.

Place a 10-inch cast-iron skillet on medium heat and allow to heat for 5 minutes.

Also, preheat the oven to 350°.

Add 4 tablespoons of the oil and swirl to coat the bottom of the pan.

When oil is hot add potato mixture and gently press with spatula to flatten the mixture so it evenly covers the bottom of the pan.

Cook on medium heat for 5 minutes.

Transfer to oven and bake for 10 minutes. By this time, the latke should be firm enough to flip without falling apart. Transfer the pan to the stove.

Place a plate over the pan and carefully invert to flip the latke.

Slide it back into the pan and bake for another 10 minutes.
TOPPING
WHOLE milk ricotta cheese
1 green onion, FINELY minced
Juice of LARGE lime
FRESH ground sea salt and black pepper
Whisk everything together until smooth and chill until needed.
GREEN CHILE GRAVY
1 LARGE can chopped green chiles
1 bunch green onions, chopped
Handful FRESH Italian Parsley
couple sprigs FRESH thyme
2 tablespoons butter
2 tablespoons WONDRA flour
2 cups homemade chicken bone broth
FRESH ground sea salt and black pepper, to taste
In a food processor combine green chiles, green onions, Parsley and thyme.

Pulse until smooth.

In a large sauce pan melt butter over medium high heat.

When butter is sizzling sprinkle with flour and whisk until golden.

Whisk in green chile mixture and bone broth.

Bring to a SLOW boil, reduce heat and simmer until reduced and beginning to thicken,
Season to taste with FRESH ground sea salt and black pepper.