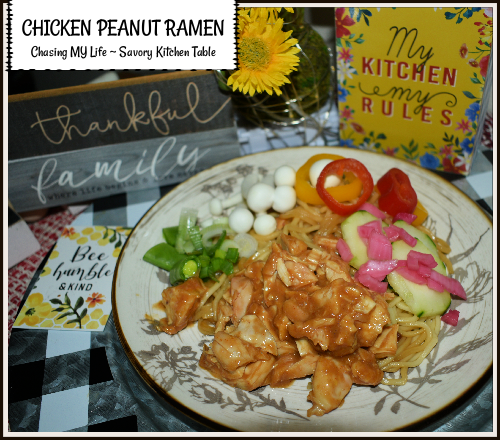 PEANUT CHICKEN RAMEN
2 LARGE chicken breasts grilled to your liking OR 2 cups chopped rotisserie chicken pieces
Yakisoba noodles for 4
1/2 pound Beech mushrooms
3 large green onions, sliced thin
1 cucumber, sliced
A handful of snap peas, trimmed
1 red, yellow and orange mini pepper, sliced
pickled onions
Chopped cilantro, optional
PEANUT SAUCE
1/2 cup salted creamy peanut butter (see notes)
2-3 tablespoons BRAGG'S liquid aminos
2 tablespoons maple syrup
+/- 1 teaspoon chili garlic sauce, depending on your heat level
Juice of 2 FRESH limes
+/- 1/4 cup water (to thin)
Whisk together the peanut butter, liquid aminos, maple syrup, chili sauce and lime juice in a medium mixing bowl.

Add water a little at a time until a thick BUT pourable sauce is formed.

Taste and adjust seasonings as needed, adding more maple syrup for sweetness, chili garlic sauce for heat, lime juice for acidity, or liquid aminos for saltiness.
NOTE:
Almond butter or Cashew butter SUBSTITUTE WELL for Peanut butter.

If your sauce becomes too thin, add more nut butter.

If your sauce is too thick, thin with more water.

FRESH grated ginger to taste adds another layer of great flavor.
NOTE: The leftovers added to torn lettuce make a wonderful salad 😀