I'm still featuring my Mary & Martha GRACE meal prayer box on Faith and Food Friday, hosted by Sandra at Diary of a Stay at Home Mom.

THIS WEEK'S PRAYER: May the LORD bless you and protect you. May the LORD smile on you and be gracious to you. May the LORD show you His favor and give you His peace. Amen.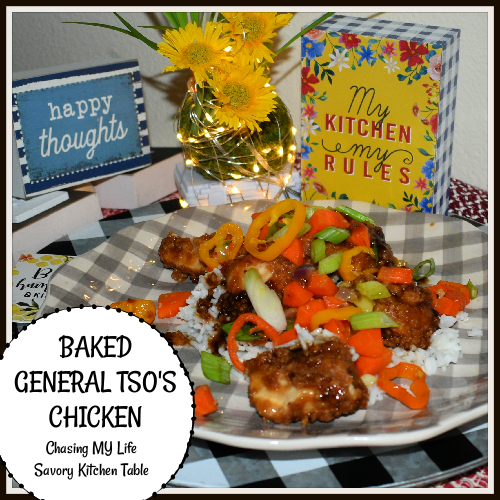 BAKED GENERAL TSO'S CHICKEN
CHICKEN
1 cup all-purpose flour
2 tablespoons soy sauce
3 LARGE eggs, beaten
2 cups Panko breadcrumbs
1 pound boneless, skinless chicken breast, cut into small bite size cubes
Preheat the oven to 425°.

Cover a sheet tray with foil and spray with non-stick cooking spray.

Place the flour in a LARGE ziploc bag.
Whisk together the soy sauce and eggs and pour into another LARGE ziploc bag.
Place the panko breadcrumbs in a third LARGE.
Add the chicken pieces to the flour ziploc. Seal and shake to coat extremely well.

Use a LARGE colander to pour the chicken pieces into. Shake off ALL excess flour.
Add chicken pieces to egg ziploc. Seal and shake to coat well.
Using a pair of tongs remove chicken from egg zip loc and add to Panko crumbs ziploc. Seal and shake to coat extremely well.
Remove chicken pieces and place on the prepared tray, leaving space between each piece.

Spray with cooking spray.


Bake until crispy and golden brown, about 15 minutes.
NOTE: If you prefer you can use a traditional dredging station, but I LOVE using the ziploc bags for even well coated chicken pieces.
SAUCE
3/4 cup homemade chicken bone broth
3 tablespoons hoisin sauce
2 tablespoons rice wine vinegar
2 tablespoons Bragg's liquid aminos
2 teaspoons sriracha
2 teaspoons cornstarch
2 teaspoons sesame oil
1 teaspoon FRESH grated ginger
Pinch red pepper flakes
3 cloves garlic, FINELY minced
While the chicken is baking whisk together the chicken broth, hoisin, rice wine vinegar, liquid aminos, sriracha and cornstarch; set aside.

Place a large sauté pan over medium heat and add the sesame oil.

Add the ginger, pepper flakes and garlic and cook until fragrant, about 1 minute.

Add the rice wine mixture, bring to a simmer and allow to thicken.


Add the crispy chicken and toss to coat.
ASSEMBLY
Prepared white rice
Sliced scallion greens
Serve immediately with rice and garnish with sliced scallions.
NOTE: I often saute carrots, onions and peppers to add to the mix.