I ORIGINALLY posted this recipe in 2012, but I've been making it since the 80's, but boy did it need a serious photo update. This recipe makes a great side that lasts several days or even weeks with a great vinegar base.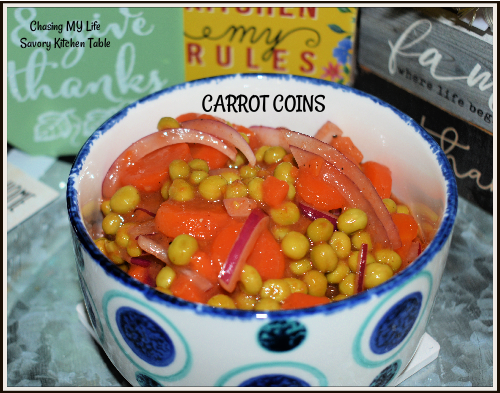 CARROT COINS
40 ounces +/- canned sliced carrots, drained
14 ounces +/- canned baby peas, drained
1 medium red onion, sliced thin
1 can Campbell's tomato soup**
3/4 cup vinegar (I sometimes use apple cider and it is just as good)
1/2 cup sugar
1/2 teaspoon salt
1/4 teaspoon pepper
1/2 cup avocado (neutral flavored) oil
1 teaspoon Worcestershire sauce
Whisk together soup, oil, Worcestershire sauce, sugar, salt and pepper. 

Add carrots, peas and onions. 

Chill overnight so flavors blend. 

Serve cold.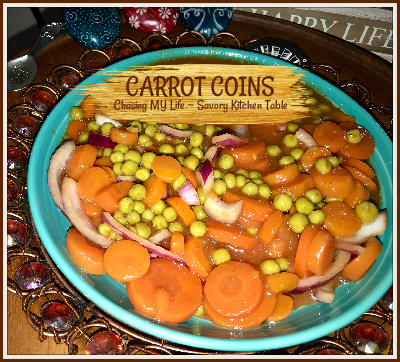 **I replaced the canned soup with the following recipe:
CREAM OF TOMATO SOUP
1 cup pureed tomatoes
1 1/2 cups milk 
dash each of garlic salt, onion salt, basil, and oregano.
Melt the butter in a saucepan over medium heat.

Whisk in flour and seasonings and cook until bubbly. 

Add tomato puree' and blend well.

Remove from heat and gradually whisk in liquid. 

Return to heat and cook, stirring, until smooth and thickened to desired consistency.