I'm still featuring my Mary & Martha GRACE meal prayer box on Faith and Food Friday, hosted by Sandra at Diary of a Stay at Home Mom.

THIS WEEK'S PRAYER: Dear God, Thank You for Jesus. Thank You for family. Thank You for friends. Thank You for good things to eat and a warm bed to sleep. We love You! Amen.

This is a FUN recipe and much more simple than you would think. The way I make it also uses my veggies that are a bit past their prime and the bones and scraps from my Costco rotisserie chicken. It is literally a kitchen sink recipe that you can make up as you go 😀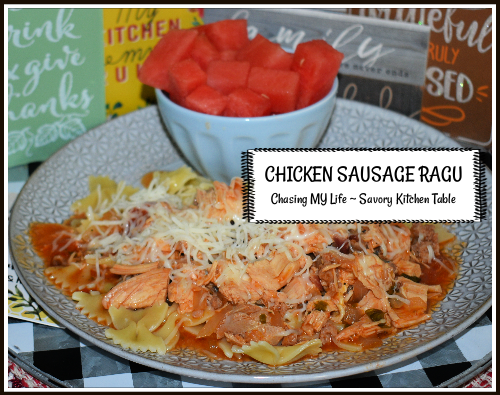 RUSTIC TOMATO CHICKEN SAUSAGE RAGU
1 rotisserie chicken (Costco)
4 cups Roma tomatoes (preferably homegrown), rustically cut into pieces
2-3 slices bacon, chopped
2 tablespoons butter
2 shallots, FINELY chopped
4 ounces (2 large links) Sweet Italian sausage. casings removed
1/4 cup FRESH chopped Italian Pasta herbs (parsley, basil, oregano)
2 cloves garlic, minced
FRESH ground sea salt and black pepper, to taste
1 cup Marsala wine
1-2 tablespoons QUALITY tomato paste
8 ounces tomato sauce
1/4 cup powdered Parmesan cheese
Grated Parmesan cheese, for garnish
Debone chicken and place skin, bones and tomato pieces in a dutch oven.
Cover with 10-12 cups of water.
Cover and simmer 3 hours.
While bone broth is simmering, small dice chicken pieces and set aside.
Heat LARGE saute pan/crock and add bacon pieces, sauteing until crisp.
Remove bacon pieces with a slotted spoon and set aide to drain.
Add butter and when melted, add sausage, herbs, garlic, and shallots, sauteing until sausage is crumbly.
Add Marsala wine, tomato paste and tomato sauce.
Strain bone broth through a sieve, mashing any large tomato chunks, into your saute pan with the sausage mixture. (Discard bones and skins.)
Stir well until blended.
Simmer over medium low heat 2 hours.
Adjust seasoning.
Add a cornstarch slurry if you want to thicken it up.
Serve over prepared pasta and top with a bit of grated Parmesan cheese.