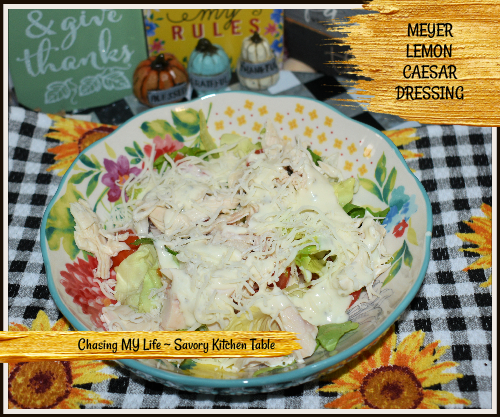 MEYER LEMON CAESAR DRESSING
Juice of 2 Meyer lemons
1 teaspoon anchovy paste or 3 anchovy fillets, minced
2 LARGE egg yolks
1 teaspoon Dijon mustard (optional*)
FRESH ground sea salt* and black pepper, to taste
3/4-1 cup avocado oil
3/4 cup FRESH, FINELY grated Parmesan cheese
Blend the lemon juice, anchovy paste, egg yolks and mustard until creamy.

Slowly stream the oil into the mixture until dressing begins to thicken. DO NOT OVER MIX!

Once dressing is thick and creamy, fold in Parmesan cheese.
*NOTES:
I'm deathly allergic so I have never had it with the mustard and it is really good, but hubby says it's even better with the mustard. 😀

Be sure and remember that anchovies are salty so taste before adding salt!