When I was a kid I was served beef stroganoff on a fairly regular basis. NO ONE told me it was the middle class version of stretching a dollar. It was pretty good in my opinion, but I was a kid, what did I know? 😀
When I grew up and read the recipe in a "real" cookbook, I was amazed to find that it wasn't actually made with ground beef LOL 😀
Taking the budget a step farther, my folks used canned mushrooms. I didn't even know what a FRESH mushroom was until many years later. I will tell you I have NEVER EVER liked canned mushrooms. They also used them in chop suey YUCK!!!!! They also used dehydrated onion and garlic.
This version with REAL veggies and a QUALITY ground beef is really good though. It may not be a great picture, but the flavor made up for it.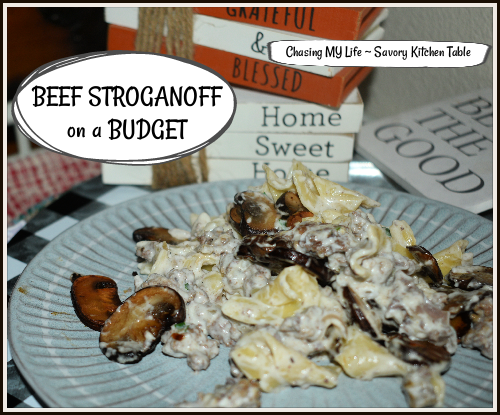 BEEF STROGANOFF on a BUDGET
3/4-1 pound QUALITY ground beef
1 cup sliced FRESH mushrooms
1 LARGE shallot, FINELY chopped
1 clove garlic, minced
1 + 3 tablespoons butter
3 tablespoons WONDRA flour
1/4 teaspoon salt
1 cup milk
FRESH ground sea salt and black pepper to taste
1 cup sour cream
3 cups prepared egg noodles
1/2 cup chopped parsley
In a large skillet brown the ground beef until crumbly.

Drain off excess fat and set aside for the moment.

Melt 1 tablespoon butterin the same skillet.

Add shallots, garlic and mushrooms, sauteing until soft.

Remove veggies with a slotted spoon adding to the meat.

Melt the remaining butter in skillet.

Whisk in flour salt and pepper, whisking until golden.

Remove from heat and whisk in milk.

Add meat and veggies back into skillet.

Return to heat, reduce heat and cook, constantly stirring until smooth and slightly thickened.

Fold in sour cream, prepared egg noodles and parsley.

Serve immediately.