Be sure to join us for Happy Homemaker Monday and link up
with our host, Sandra at Diary of a Stay at Home Mom

Did you remember to set your clocks back? I did, but my body didn't get the message so I was WIDE awake at 5AM on a Sunday! Oh well, I got a lot done and was happy for the extra time. 😀

I'm anxious to jump into some normalcy and begin this holiday season! I started with our local Harvest craft fair last Saturday and did a bunch of Christmas shopping while supporting local artists. The Christmas holiday fair is in a month and I will support it also. Entry into both fairs is canned goods for the food drive which I highly support.
I also have everything gift wrapped to date which is such a relief to be ahead of the game. I even have the Christmas cards started 😀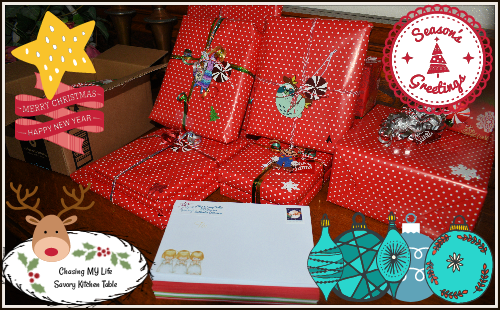 While we didn't have "luck" on finding a new project home this trip YET I'm a believer in things happening for a reason and know what is supposed to be will be in time so I'm okay with it. It is prompting me to spend the winter sorting and planning a HUGE garage sale for spring to downsize when I know things will work out better. I'm hoping by then we have entered the endemic phase of this pandemic and to find a bit of normalcy in the world around us.
The Pacific North West in November and it's raining, imagine that LOL We're supposed to be in the 50's with low in the 40's all week along with more rain. We needed the rain so bad that I don't even mind! I love that all the flannel and layers are back with my comfy UGGs.

Hot water and black cherry yogurt
THIS WEEK'S TO DO LIST, PROJECTS & APPOINTMENTS


LAUNDRY & CLEANING I have a couple loads of laundry to do today and tomorrow and then will begin a

DEEP CLEAN

from the ceiling down later this week. And by deep clean I mean

EVERY

light fixture globe, everything on the "decorative" ledges above the living room, the tops of the cupboards etc… I want to get it all done before they come to clean the carpets on the 22nd.

GROCERIES & ERRANDS I have an appointment with the Chronic Care manager

FINALLY

on Tuesday and the eye doctor on Wednesday. Between being in town on those 2 days I'll get

ALL

the errands done. Hubby has a follow up with his doctor Friday afternoon that I need to cancel since the doctor actually called us last Friday afternoon. I also received a letter saying my primary doctor is leaving the area for an area to our north. I have an appointment with her later this month, but I'm going to try and move it up so I can get all my referrals and prescriptions handled. Poor timing for the whole meter fiasco getting handled. I'm hoping whatever practice she's moving to will take some of her patients – I'll make the hour drive to stay with her.

PAPERWORK & PHONE CALLS

I need to get follow up referrals from the primary doctor for the dermatologist and endocrinologist. This was already on the to do list when I received the letter (which was dated 10/25, but not postmarked until 11/4) on Saturday. The practice she's leaving was on my S**T list already for not meeting my needs as a patient and she was the only saving grace for it. So, I have no regrets leaving them behind by hopefully following her to her new practice or finding another doctor in the area. The jury is still out on the chronic care manager as I have yet to meet her.



RECIPE RESEARCH & MENU PLANNING

Everything is planned through Thanksgiving so I'm taking a rest, despite collecting a few new recipes.



NETFLIX

Season 2 Locke & Key

CABLE

I finished all the Halloween Baking shows and arm beginning on the Holiday ones 😀 I also got caught up on most of the prime time shows from when we were traveling. Oh and Hallmark Christmas movies have begun 😀

I'm working on Kristen Proby's book #3 Serendipity: A Bayou Magic Novel, but I keep falling asleep before I get but a few paragraphs in.

Hubby and I were both getting a little cabin fever from the recent rain storms so took a drive to a neighboring town and had lunch at a favorite old haunt and did a little antiquing. It was cold, but so good to get out and I actually took a few new pictures.
Buster's Main Street Cafe where we went is too small and unable to operate under current COVID restrictions, but we were happy to find that several of the downtown businesses have banded together with a local Brewery, Covered Bridge Brewing and are able to still function and stay in business. They deliver your food directly to you at the brewery who in turn serves your drinks and is large enough to have tables that meet the social distancing requirements.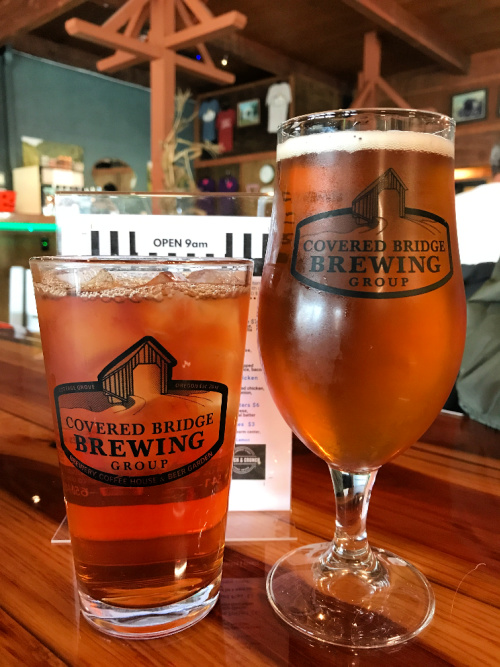 It's a cute little town and actually has a fun history dating back to the filming of Buster Keaton's The General in 1926 and John Belushi's Animal House parade scene down Main Street in 1978. Cottage Grove is also home to many working covered bridges and a go to spot when people are visiting. The covered bridge below is actually only a mile and half from the house and one of my favorites that we use quite often.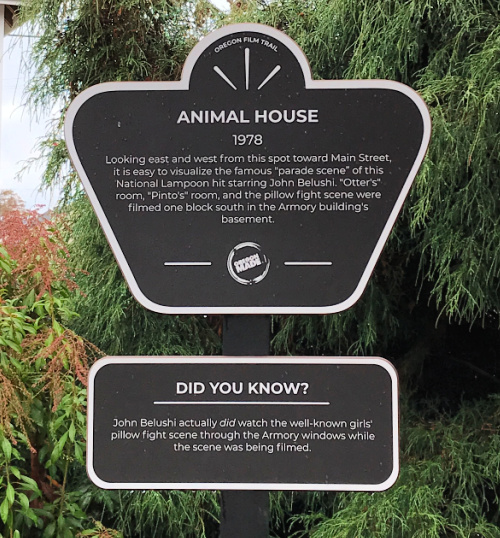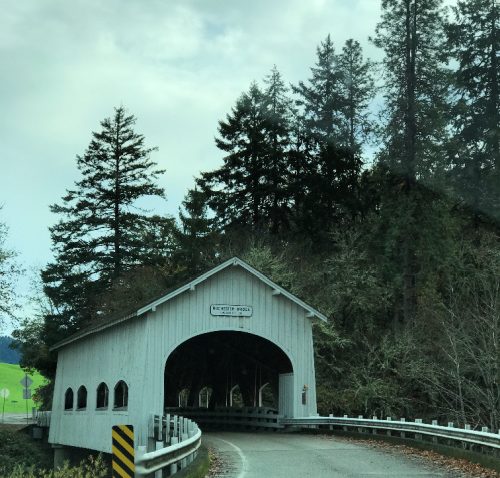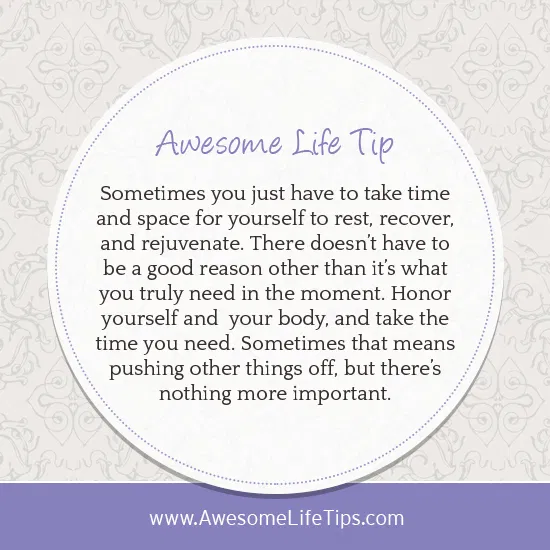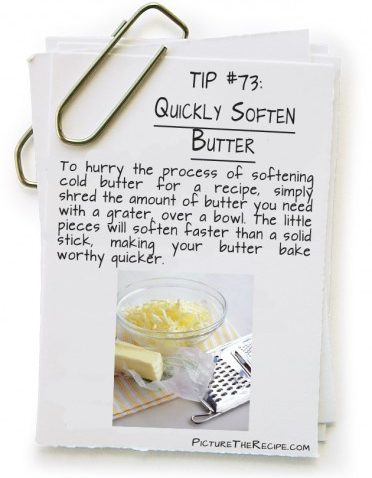 with the links to last week's posted recipes, featured party links for the week and upcoming recipes to be posted soon.
| | | | | | | | |
| --- | --- | --- | --- | --- | --- | --- | --- |
| | MONDAY | TUESDAY | WEDNESDAY | THURSDAY | FRIDAY | SATURDAY | SUNDAY |
| DINNER | MEATBALLS & PASTA with SALAD | LOADED HASHBROWN POTATO SOUP & BISCUITS | TUNA TARRAGON | S3 PORK CHOPS & VEGGIE | PAPRIKA RUBBED CHICKEN & RICE PILAF | RED CABBAGE SALAD | PAN SEARED CHICKEN with MASHED POTATOES & BUTTERMILK POBLANO GRAVY |
| DESSERT | | CARAMEL MACCHIATO CUPCAKES | | | | | |


BEEF STROGANOFF on a BUDGET
HONEY BUTTER GARLIC PORK LOIN
MELT IN YOUR MOUTH CHICKEN PARMESAN