We had a power outage the night I made this dish. The power went off and on so many times I lost count. It came on and stayed on for quite awhile so I actually started dinner as planned. Of course half way through it went off again making it difficult to get decent pictures. Fortunately, the power outage didn't affect the flavor 😀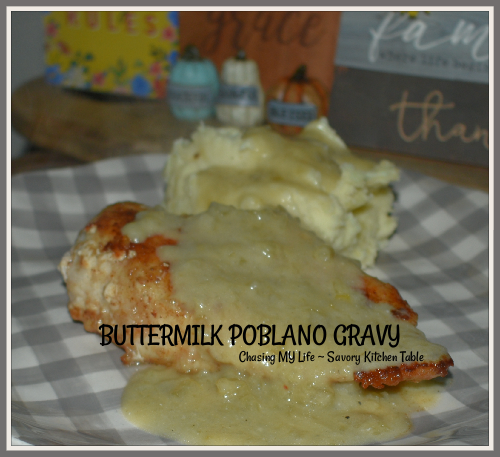 BUTTERMILK POBLANO GRAVY
2 LARGE poblano chiles
3 tablespoons unsalted butter
1/2 cup diced yellow onion
1 1/2 cups homemade chicken bone broth
1 heaping tablespoon WONDRA flour
2 tablespoons WHOLE buttermilk (not reduced fat)
FRESH ground sea salt and black pepper, to taste
Using long tongs , blacken each chile over flame.
Add chiles to a bowl and cover with saran for 10 minutes to steam.
Using the plastic wrap or gloves, rub the chiles to remove the blackened skin.
Remove stems and seeds before FINELY dicing the chiles.
Melt 1 tablespoon of the butter over medium heat in saucepan.
Add onions and half of the chiles, cooking 3-4 minutes until onions are soft.
Add onion mixture to blender with 1/2 cup of the chicken stock and process until smooth.
Melt remaining butter in saucepan over medium heat.
Whisk in flour, reduce heat to low and cook 3 minutes until golden.
Increase heat back to medium and whisk in chile puree and remaining broth, cooking 2-3 minutes until thick enough to coat the back of a spoon.
Stir in the buttermilk and heat gently 2-3 minutes allowing the  flavors to blend.
Season with FRESH ground sea salt and black pepper to taste.
NOTE:
Chiles can be prepared a few days in advance and refrigerated until needed.

In a pinch you can use a LARGE can of Hatch chiles.