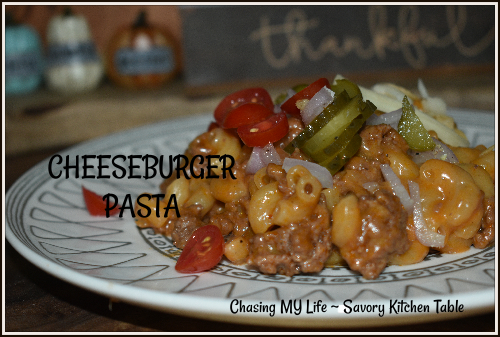 CHEESE BURGER PASTA serves 4-6
1 pound QUALITY ground beef
1 SMALL onion, diced
½ cup QUALITY ketchup
½ teaspoon garlic powder
FRESH ground sea salt and black pepper, to taste
2 cups elbow pasta uncooked
2 cup beef stock
1½ cup grated Havarti, cheddar or Fontina cheese, grated cheese
diced tomatoes, for garnish
diced red onion, for garnish
diced pickles, for garnish
diced jalapenos, for garnish
shredded lettuce, for garnish
Place a large lidded saute pan over medium heat.
Let pot heat up for 2 minutes before crumbling ground beef into pot.
Sauté ground beef for 2 minutes.
Add onions, garlic powder, salt and pepper.
Once beef is ¾ browned stir in ketchup.
Saute for 3 minutes, then add dry pasta. stirring together while gradually adding in the beef stock.
Cover sauce pot and cook for 20 minutes.
Remove lid and lower heat to medium low.
Add grated cheese and stir until melted.
Top with personal garnishes.
Serve and enjoy!