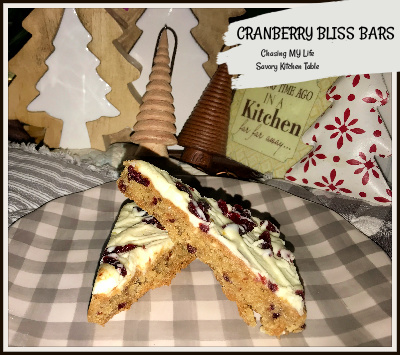 CRANBERRY BLISS BARS ~ STARBUCKS COPY CAT RECIPE
I LOVE these bars, but you can only get them once a year at the holidays so a copy cat recipe was a necessity! Not to mention Starbucks charges almost as much for one bar as I can make a WHOLE batch. These taste just like Starbucks in my opinion!
BLONDIE COOKIE BAR LAYER
1 cup (2 sticks) butter, melted
1 1/2 cups PACKED brown sugar
2 LARGE eggs
1 teaspoon PURE orange extract
1 teaspoon PURE vanilla extract
1/2 teaspoon ground ginger
Pinch QUALITY cinnamon
1 1/4 teaspoon baking powder
1/2 teaspoon salt
2 cups all purpose flour, sifted
1 cup white chocolate chips
3/4 cup Craisins, chopped
Preheat oven to 350°.

Line a 9×13 pan with parchment paper (which makes it easy to lift out of the pan) or spray generously with non-stick baking spray.

Add melted butter and brown sugar to a large mixing bowl and beat with an electric mixer at medium speed.

Add in eggs, orange extract, vanilla extract beating until mixed well.

Add in ground ginger, baking powder, salt and flour, beating JUST until blended. DO NOT OVER MIX!

Fold in white chocolate chips and Craisins by hand.

Spread evenly into the bottom of prepared pan.

Bake 18-22 minutes until set and golden brown at the edges. DO NOT OVER BAKE or your bars will be hard as rocks.

Remove from oven and cool on wire rack.

Allow bars to cool

COMPLETELY

before frosting.
FROSTING/TOPPING
8 ounces cream cheese, softened
1 1/2-1 3/4 cups powdered sugar
1/2 teaspoon PURE orange extract
1/2 teaspoon PURE vanilla extract
1/3 cup Craisins, chopped SMALL
2 squares white chocolate almond bark, melted
Beat cream cheese and 1 1/2 cups powdered sugar together with an electric mixer until smooth and creamy.

Add orange extract and vanilla extract mixing well. If too thin, add remaining powdered sugar.

Top cooled bars with frosting.

Sprinkle with chopped Craisins and drizzle the white chocolate almond bark over the top.

Cut into triangles or squares.  I recommend chilling them for at least an hour before serving and keeping them in an airtight container chilled to store.


Enjoy!
NOTES:
This recipe works as a gluten free bar really well. Swap out the all purpose flour for Bob's Red Mill or King Arthur Flour.

They freeze REALLY well! Be sure to thaw overnight before serving.