It's all about the sauce! Sauce is the BEST way to add extra flavor to ANY dish! I use pineapple jam, but have also used apricot pineapple, tart cherry, peach and even fig. When you add your favorite jam to a QUALITY balsamic vinegar and FRESH herbs the flavors mingle with the pan drippings and caramelized onions so that the flavors explode into the PERFECT sauce.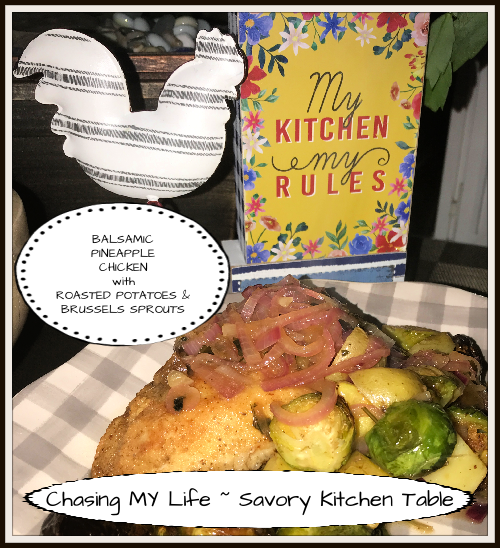 BALSAMIC PINEAPPLE CHICKEN with ROASTED POTATOES & BRUSSELS SPROUTS
12 ounces Yukon gold potatoes, diced into 1/2 inch pieces
1 Red Onion, halved – one half sliced thin, the other half diced
2 tablespoons FRESH thyme leaves
1 LARGE Lemon, juiced
2 boneless, skinless chicken steaks
4 tablespoons WONDRA flour
2 tablespoons QUALITY Balsamic Vinegar
3 tablespoons Pineapple jam
1/3-1/2 cup homemade chicken stock
2 cups halved and trimmed small BRUSSELS SPROUTS
1 + 1 tablespoon avocado oil
1 + 1 tablespoon butter
FRESH ground sea salt and black pepper, to taste
Preheat oven to 450°.

Toss potato pieces and Brussels sprouts

Dice potatoes into ½-inch pieces; toss on a baking sheet with a drizzle of oil, salt, and pepper.

Roast on top rack, tossing halfway through, until browned and tender, 20-25 minutes.

Pat chicken dry with paper towels.

Generously season all over with FRESH ground salt and pepper.

Dredge in WONDRA and and shake off excess.

Melt 1 tablespoon of oil and 1 tablespoon of butter in skillet over medium high heat.

Add chicken and cook until browned and cooked through, 3-5 minutes per side.

Transfer to a cutting board and set aside to rest.

Add the remaining oil to the pan oil in pan.

Add the onion slices and thyme leaves, cooking 2-3 minutes until softened.

Whisk vinegar, lemon juice and jam together.

Add jam mixture to pan and simmer 2-3 minutes until syrupy.

Stir in stock and simmer 2-3 minutes until thick and glossy.

Remove pan from heat and stir in remaining butter until melted.

Season to taste with salt and pepper.

Thinly slice chicken crosswise if you'd like.

Divide chicken, potatoes, and green beans between plates.

Drizzle to your heart's content over the chicken and or potatoes and Brussels sprouts. ENJOY every bite.

Serve with lemon wedges on the side if desired.