This is a super simple, yet sweet and flavorful recipe and quite honestly my favorite way to eat carrots.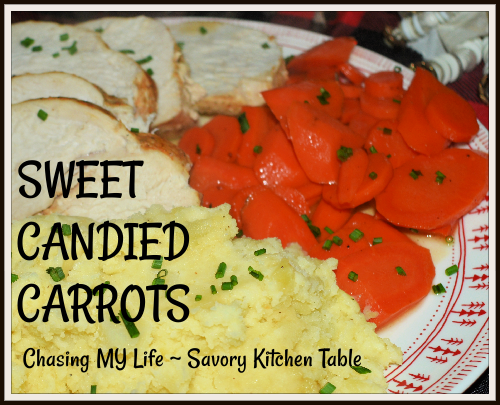 SWEET CANDIED CARROTS
2 pounds carrots, sliced
1/4 cup butter
1/4 cup PACKED brown sugar
FRESH ground sea salt and black pepper
MINCED parsley
Place carrots in a wide saucepan.

Cover by 1 inch of water.

Bring to a boil. Cover and simmer 8-10 minutes until crisp tender.




Drain and set aside.

In the same pan, combine the butter, brown sugar, salt and pepper; stirring to combine until butter is melted.

Return carrots to pan; cooking and stirring 5 minutes until well coated and glazed well.

Sprinkle with parsley before serving.