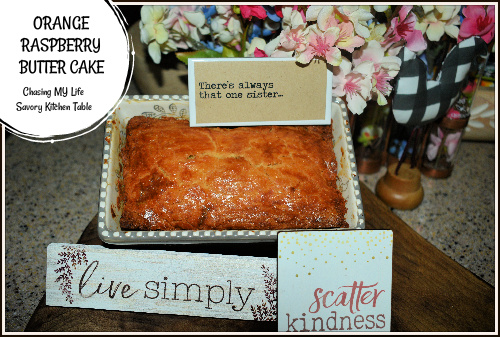 ORANGE RASPBERRY BUTTER CAKE Yield 2 9inch layers, 12-16 serving(s)
1 cup butter, softened
1 1/2 cups sugar
3 LARGE eggs
3 LARGE egg yolks
1 tablespoon PURE vanilla
3 1/4 cups cake flour
1 1/2 teaspoons baking powder
1/4 teaspoon salt
1 cup WHOLE milk
1/4 cup orange liqueur (raspberry liqueur or rum also work well)
Preheat oven to 350°.

Butter and flour two 9-inch round cake pans.

In mixer bowl, on medium-high speed, beat butter and sugar 4-5 minutes until fluffy.

Add eggs, then yolks, one a time, beating well after each, scraping sides of bowl occasionally.

Beat in vanilla.

In another bowl, sift together flour, baking powder and salt.

Mix in about a third of flour mixture into butter mixture.

Stir in half the milk and liqueur, just until blended.

Stir in another third of flour mixture,.

Add the remaining milk and liqueur and then the rest of the flour mixture.

Spread batter equally into the cake pans.

Bake 25-30 minutes until toothpick inserted in the center comes out clean.

Cool on racks in pans for 10 minutes, then invert cakes onto racks and remove pans.

Cool completely before frosting.
NOTE: This cake is good with or without frosting or glaze.