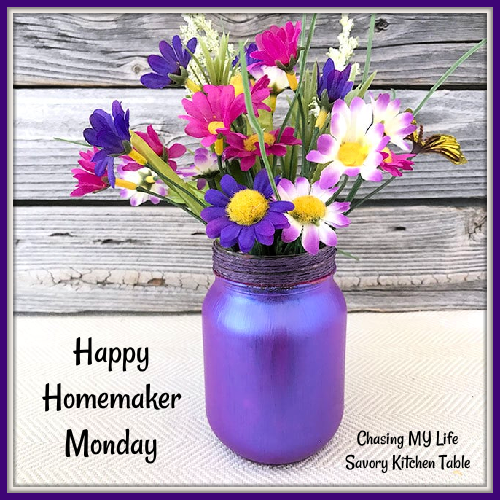 Be sure to join us for Happy Homemaker Monday and link up
with our host, Sandra at Diary of a Stay at Home Mom

Good morning. I hope you all had a great week and an even better weekend. For some reason this week flew by for me and I don't feel like I got enough accomplished. I'm still struggling with adjusting my diet on a daily basis 🙁 and that seems to occupy way too much time, especially coupled with the seesaw of unequal and opposite reactions that accompany this new thing called daily life.
Between the pandemic, world events and life in general most days I sometimes feel a bit overwhelmed. Unfortunately, I also know I'm not the only one and we're all in this together, so I pray that they find a cure for this danged virus and some world peace thrown in for good measure would go a long way to curing ALL of OUR ails.
I am so saddened by what is happening in Ukraine. It is all so senseless and selfish of Putin to invade and destroy Ukraine.  So many lives have been lost. Even more hopes and dreams have been shattered. I keep praying things will turn around and turn around soon!  Prayers for Ukraine and its people.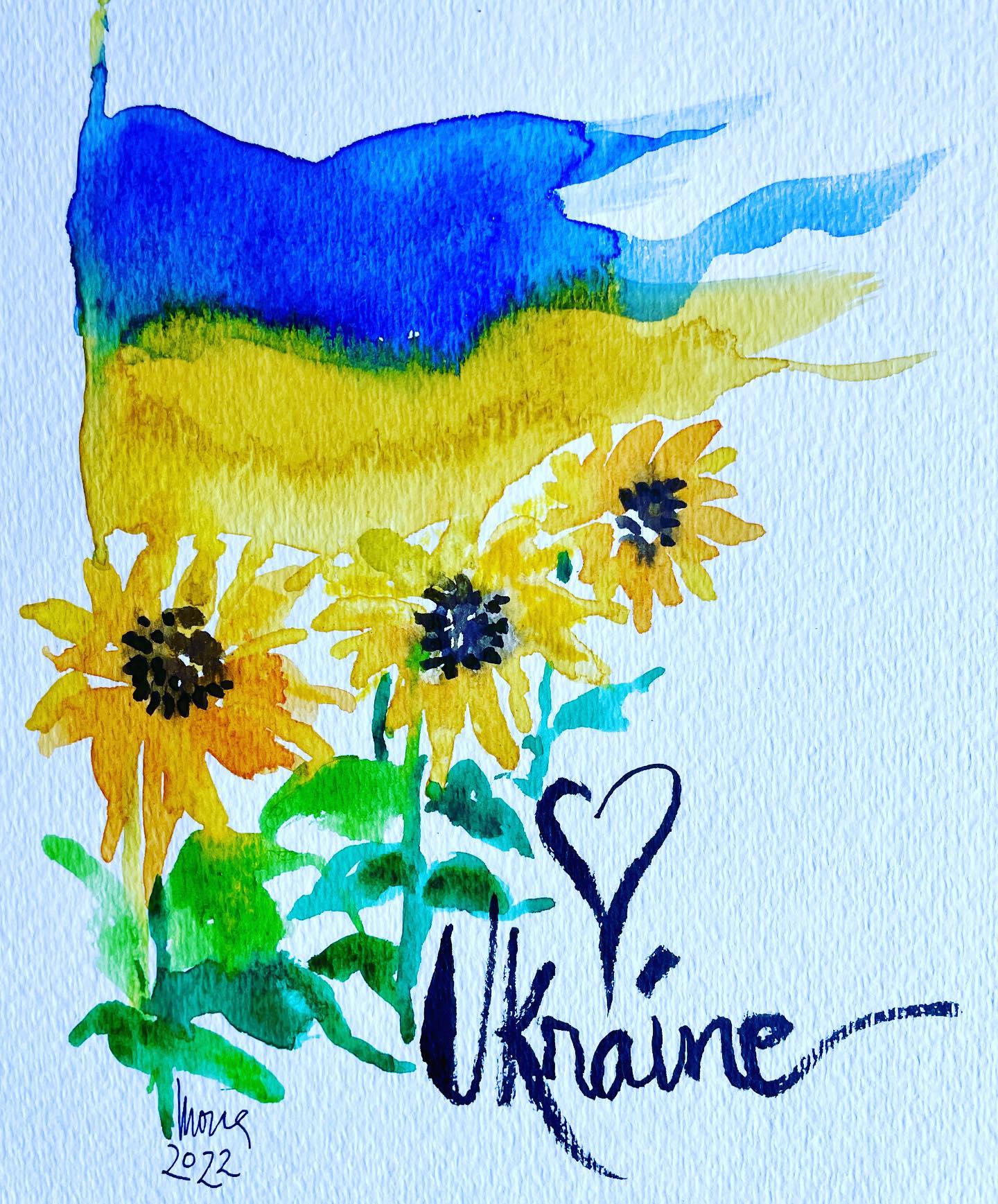 The picture above is from Facebook, but I also ordered some digital art from Ukranian artists on ETSY in an effort to help somehow. I actually love these and will be printing them for framing.
I know gas prices are going up everywhere because of the price of oil and the the Ukranian/Russian war, but for us here our state ALSO added a 38¢ state tax effective January 1st of this year. Gas has gone from $3.46 at Christmas time to $4.49 yesterday. I've always tried to combine my errands to the least amount of trips to town and the least amount of gas used, but this now holds even truer!

We have mostly cloudy days in the 40's with wind to look forward to before the rain begins towards the end of the week. I keep thinking spring is right around the corner, but then winter rears its ugly head yet again. It's also another week of below freezing at night so hubby put the faucet covers back on.

I have some spray painting to do in order to spruce up some old hanging planters and patio furniture  that have peeling paint, but the weather is just not cooperating! I just need one, just one still and SUPER SUNNY afternoon above 50° to pull it off 🙁

I wish this could change a little bit, but yet the hot water and yogurt is tried and true 😀
THIS WEEK'S TO DO LIST, PROJECTS & APPOINTMENTS


LAUNDRY & CLEANING

I need to change and wash bedding in hopes of switching to "spring" types, but the weather is not holding out hopes for that as we have several nights this week below freezing still.



GROCERIES & ERRANDS

Hubby has a couple appointments this week that I will tag along on to also run my errands. At the price of gas right now it just doesn't make sense to make multiple separate trips.




PROJECTS

I have a couple flannel shirts that are too large for me, but I love the colors of so am going to turn them into aprons based on this picture I found on pinterest.

RECIPE RESEARCH & MENU PLANNING

I'm making the phone calls necessary to quit all recipe & menu services because they are just not enjoyed anymore as the recipes have become repetitive and the ingredients less reliable which may be a regional thing. I just used to enjoy them more 🙁 So it's back to my trusty tote full of recipes 🙂



NETFLIX

Sweet Magnolias, Virgin River



PRIME

Mrs. Maisel

CABLE

FLYING TIGERS with JOHN WAYNE, NASCAR, Walking Dead, Cooking shows ~ Tournament of Champions, Spring Baking, Alex VS America I'm excited to watch the new show next week where they cook along with Julia Child

Someone Like You: A Wild Widows Novel ~ Wild Widows Series Book 1 by Marie Force. This is a companion series to her First Family series (3 books to date) which is a companion series to her Fatal series (16 books to date) – I obviously like this author. I've been reading her for years and truly love her series format.
Carrie asked me a week or so ago about how I sketch before I paint. Here are a couple of sketches I did recently, but have yet paint. The one on the left is going to be a cute little bird on a fence post and the one on the right is going to be a lighthouse on a sandy shore. I just use a heavy gauge pencil to canvas. Paint will cover it as I go.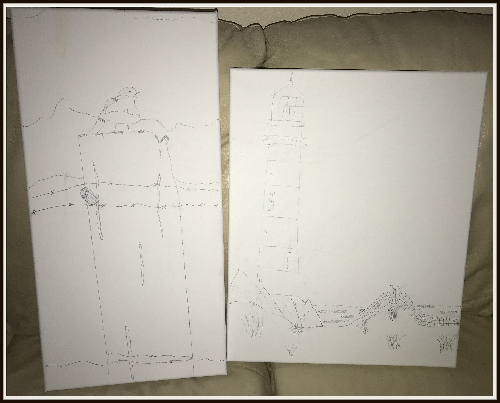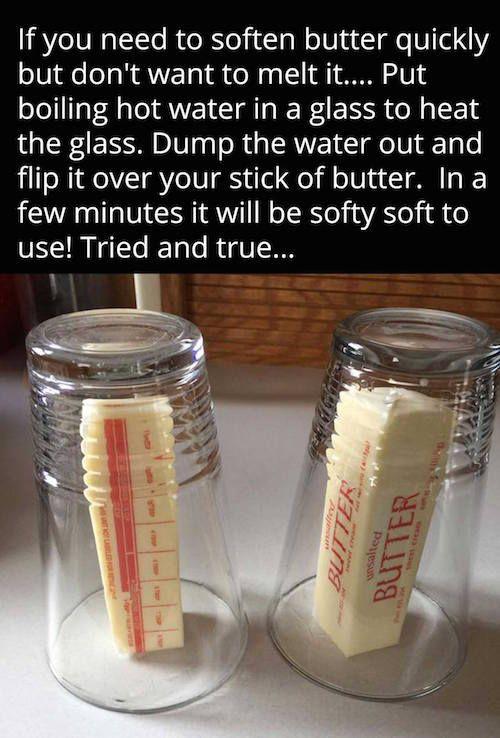 with the links to last week's posted recipes, featured party links for the week and upcoming recipes to be posted soon.
| | | | | | | | |
| --- | --- | --- | --- | --- | --- | --- | --- |
| | MONDAY | TUESDAY | WEDNESDAY | THURSDAY | FRIDAY | SATURDAY | SUNDAY |
| DINNER | CHICKEN AMASU & SALAD | PORK LOIN with APPLE CREAM SAUCE with GLAZED CARROTS | BLONDE BEEF STEW | BLACKENED ORANGE ROUGHY & GREEN BEANS | SALISBURY STEAK, SCALLOPED POTATOES, GREEN BEANS & APPLE CRISP | CHICKEN PAPRIKA with MASHED POTATOES & GRAVY | PORCUPINE MEATBALLS & MASHED POTATOES with PAN BROWN GRAVY |
| DESSERT | | BOLOS DE COCO (PORTUGUESE COCONUT CAKES) | | | | | |


SAMOA CHEESECAKE
CHICKEN with TARRAGON SAUCE
CALABRIAN CHILE TOMATO SAUCE