Be sure to join us for Happy Homemaker Monday and link up
with our host, Sandra at Diary of a Stay at Home Mom

How was your weekend? Wherever you are I hope you haven't had too much weather and have been able to get out and enjoy life a bit. We have had a few decent hours each day and have gotten a couple small projects done – things that don't require you to finish immediately if the rain starts kind of things.
On Saturday before the rain began I was able to cut out the dead parts of some Mallow bushes and together we were able to level a couple of planter areas. They really need to be redone, but with leveling the blocks and turning the boards they'll make it another season anyway. I did find this little ladybug – must be a good sign right?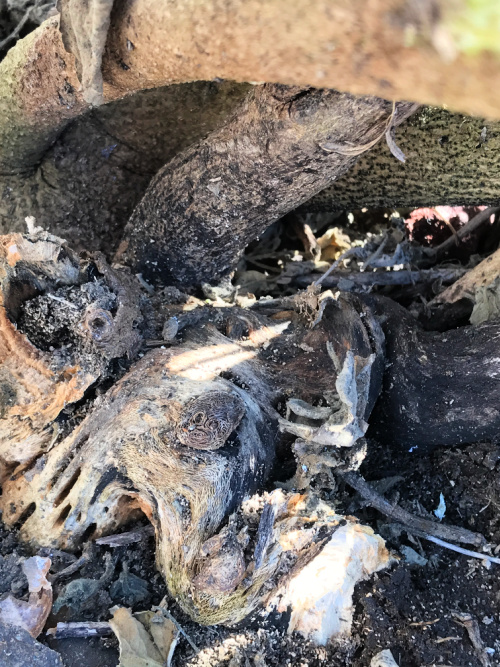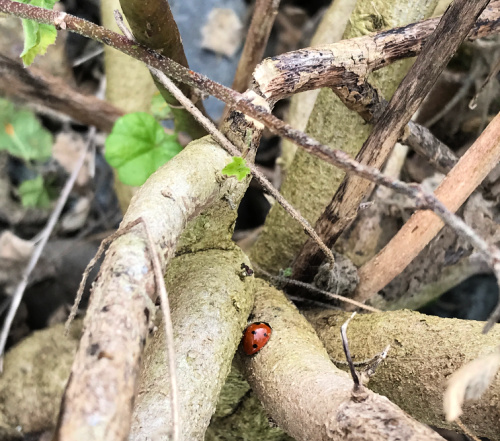 Also, the mousers have been hanging around a lot – I think because they can stay warmer together. I don't think they're thrilled with the frozen bird bath though.

The rain is back and while the temperatures have warmed a few degrees during the day, nighttime hasn't, so it is only a couple hours a day 🙁 AND it's not supposed to last dropping back down for next week.
The weather has been so weird (again) and we're still having "sugar ant" issues – you know the little black ones looking to get out of the cold or in search of water. AND NOTHING SEEMS TO BE WORKING AGAINST THEM!
I have put out 2 of these in EVERY room and they all look like this! I'd actually feel better if they were after food, but they go nowhere near the kitchen. No amount of scrubbing or vacuuming is helping! They are invading from outside.

Hot water and peach yogurt

THIS WEEK'S TO DO LIST, PROJECTS & APPOINTMENTS


LAUNDRY & CLEANING

I have a few loads of laundry to get done and want to deep clean the kitchen before I vacuum.



GROCERIES & ERRANDS

I need a few dairy items and produce and want to get a card for hubby's birthday Wednesday so will head into town tomorrow for a bit. I'm going to make him a special Girl Scout cookie inspired Samoa cheesecake when I get home.




PROJECTS

With the weather having been so bitterly cold and now rainy a touch of cabin fever has set it in as hubby and I have both been craving more outside time. We have gotten a few things done replacing rotten boards and leveling a couple planters as well as cutting out the dead mallow parts and wild blackberry that had wrapped itself around plants.




RECIPE RESEARCH & MENU PLANNING

I'm trying to cycle through the pantry and freezer items building the menus around items on hand.




NETFLIX

Steel Magnolias. Virgin River




PRIME

Mrs Maisel season 4

PLUTO

Becker reruns

DISNEY+

Turner & Hooch




DISCOVERY +

FIXER UPPER



CABLE

GHOSTS,

COOKING SHOWS -Tournament of Champions, beat Bobby Flay, Spring Baking Championship

I haven't decided what to read this week. I just finished a book and want to focus on cleaning up my scraps of paper notes instead this week.
So, driving by the pond the other day this is what I saw. It's just a man walking his several hundred pound pig. The funny part was watching him trying to get it back into his minivan.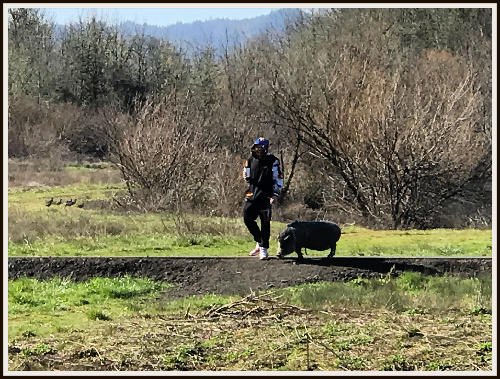 | | | | | | | | |
| --- | --- | --- | --- | --- | --- | --- | --- |
| | MONDAY | TUESDAY | WEDNESDAY | THURSDAY | FRIDAY | SATURDAY | SUNDAY |
| DINNER | POT ROAST & MASHED POTATOES | CHICKEN with TARRAGON SAUCE | ITALIAN – OUT FOR HUBBY'S BIRTHDAY | PAN SEARED SALMON with GARLIC LEMON SAUCE & POTATOES AU GRATIN | PORCUPINE MEATBALLS and CORN CREOLE | CORN STUFFED PORK CHOPS | BLACKENED ORANGE ROUGHY with RICED CAULIFLOWER |
| DESSERT | | SAMOA CHEESECAKE | | | | | |