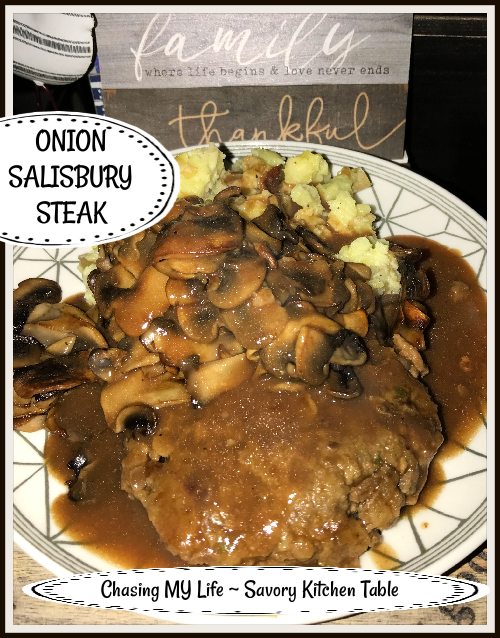 SALISBURY STEAK adapted adapted from the Pioneer Woman, Ree Drummond
1 1/2 pounds lean ground beef
1/2-1 pound FRESH mushrooms, sliced
1/2 cup seasoned breadcrumbs
2 tablespoons Worcestershire sauce
1 teaspoon creamy horseradish
2 tablespoons jalapeno ketchup
1 packet LIPTON French onion soup mix
FRESH ground sea salt and black pepper, to taste
1 tablespoon butter
1 tablespoon avocado oil
1 tablespoon WONDRA flour
1/4 cup cream sherry
1 1/2 cups beef broth
FRESH parsley leaves as garnish
Combine the ground beef, breadcrumbs, Worcestershire, 1 tablespoon of the ketchup, horseradish, 1 tablespoon of the soup mix and some salt and pepper in a bowl and knead until well combined.
Form into 4 oval patties, and using the side of your hand, make lines across the patties to give them a "steak" appearance.
Place a HEAVY skillet (preferably cast iron) over medium high heat and add the butter.
Add mushrooms, cooking until caramelized. Remove with a slotted spoon and set aside.
Add oil and more butter if necessary.
Fry the patties about 5 minutes per side until no longer pink in the middle.
Remove from the skillet and pour off all but 2 tablespoons of the grease.
Sprinkle the flour remaining grease and let cook for a minute.
Remove the skillet from the heat and deglaze with the sherry, scraping up all the little bits from the bottom to release all the flavor.
Return to the heat and add the beef broth, remaining ketchup and remaining soup mix. Bring to a boil and let thicken, 2 to 3 minutes.
Taste and adjust the seasoning as needed.
Fold mushrooms into gravy, stirring a minute or two to reheat mushrooms.
Remove the skillet from the heat.
Return the patties to the gravy, spooning a little gravy over each.
Garnish with the parsley.