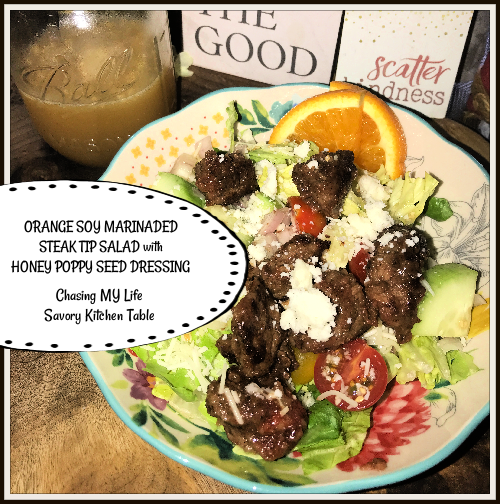 STEAK TIP SALAD
1 pound steak tips in bite size pieces
torn romaine lettuce
sliced cucumbers
halved cherry tomatoes
sliced red onions
sliced green onions
marinated artichoke hearts
crispy onions
FRESH grated Parmesan cheese
or any other toppings of choice

ORANGE SOY MARINADE
½ cup Bragg's liquid aminos
½ cup FRESH squeezed orange juice
4 tablespoons QUALITY honey
FRESH ground sea salt and black pepper
3 tablespoons avocado oil
In a medium bowl, whisk together the liquid aminos, orange juice, and honey.

Add the salt and pepper and whisk together.

Put half of the marinade in another bowl to use as a vinaigrette if not preparing the honey poppy seed dressing.

Add the avocado oil to the vinaigrette mixture and put aside in the refrigerator

until ready to dress the salad.

Add the steak tips to the marinade bowl and cover. If possible, marinate overnight in the refrigerator. Otherwise, marinate for at least an hour in refrigerator before cooking.

Heat 1 tablespoon avocado oil in a cast-iron pan to medium-high, cook steak tips 2-3 minutes per side (for medium rare), turning every few minutes to brown all sides.

Let steak tips rest for 5-10 minutes.
HONEY POPPYSEED DRESSING ALA Molly Yeh
Zest of 1 lemon plus 1/4 cup lemon juice
1/4-1/2 cup apple cider vinegar, to taste
1 tablespoon (17 grams) honey mustard
2+ tablespoons (42 grams) QUALITY honey, to taste
1 teaspoon poppy seeds
FRESH ground sea salt and black pepper
1/3 cup (72 grams) avocado oil
In a small mixing bowl, whisk together the lemon zest and juice, vinegar, honey mustard, honey, poppy seeds, salt and several grinds of pepper.

Add the avocado oil and whisk to emulsify.