This looks like a plain old everyday cole slaw, but it's a SUPER cole slaw with a bacon and vinegar base instead of mayonnaise base that really packs it with LOTS of flavor.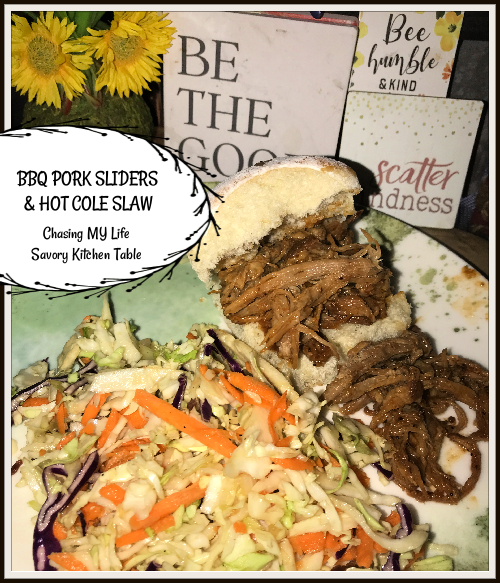 HOT COLE SLAW
1 medium head of cabbage (I like a mixture of red and green)**
2 carrots, shredded**
1 SMALL Vidalia onion, small chopped
6 slices bacon, diced
1/4 cup PACKED brown sugar
1/4 teaspoon Coleman's dry mustard (optional)
FRESH ground sea salt and black pepper, to taste
1/4 cup apple cider vinegar
1/2 cup chopped salted peanuts (optional)
Toss together the cabbage and carrots. Set aside.

Cook bacon pieces until crisp. Remove with a slotted spoon to paper toweling to drain.

Drain off all but 1 tablespoon of grease.

Add onions to bacon grease, cooking until tender.

Add brown sugar, vinegar, mustard (if using) salt and pepper, stirring until well blended and sugar is dissolved and JUST heated through. Cool Slightly.

Toss bacon pieces with the cabbage.

Pour cooled vinegar mixture over cabbage mix and serve immediately.
** You can completely cheat and buy the pre-shredded coleslaw mix in the produce department.