Brunswick Stew has a complicated history to say the very least. Brunswick, Georgia and Brunswick County Virginia have been dueling over the HOME and ORIGIN of the stew for many years. Brunswick County Virginia holds an annual "Stew Off" and Brunswick, Georgia displays not one, but two separate memorial sites of where they claim the first Brunswick Stew was cooked up. Historians state that the Virginia version predates Georgia by about 70 years and was even printed in early cookbooks. There is also a Brunswick, North Carolina, but they tend to just stay out of it altogether.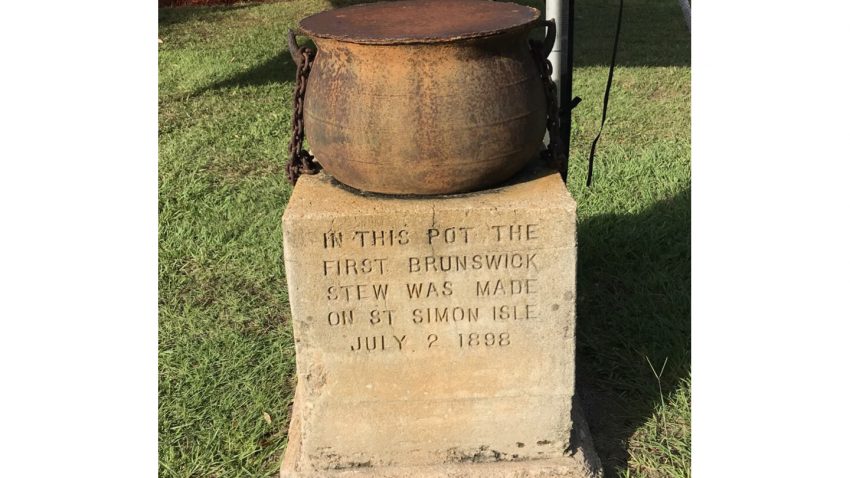 Credit: Robert Moss
Credit: Courtesy of Jim Auchmutey
From my research some of the earliest recipes called for squirrel or groundhog meat and used hominy claiming that these were Native American in ancestry and the basis for the first Brunswick stew. Basically it was a "roadkill" stew. Game meat such as deer, rabbit or even bear meat was often used along with corn or squash, basically what was on hand for early Appalachian settlers, and was simmered with butter, onions, stale bread and seasoning.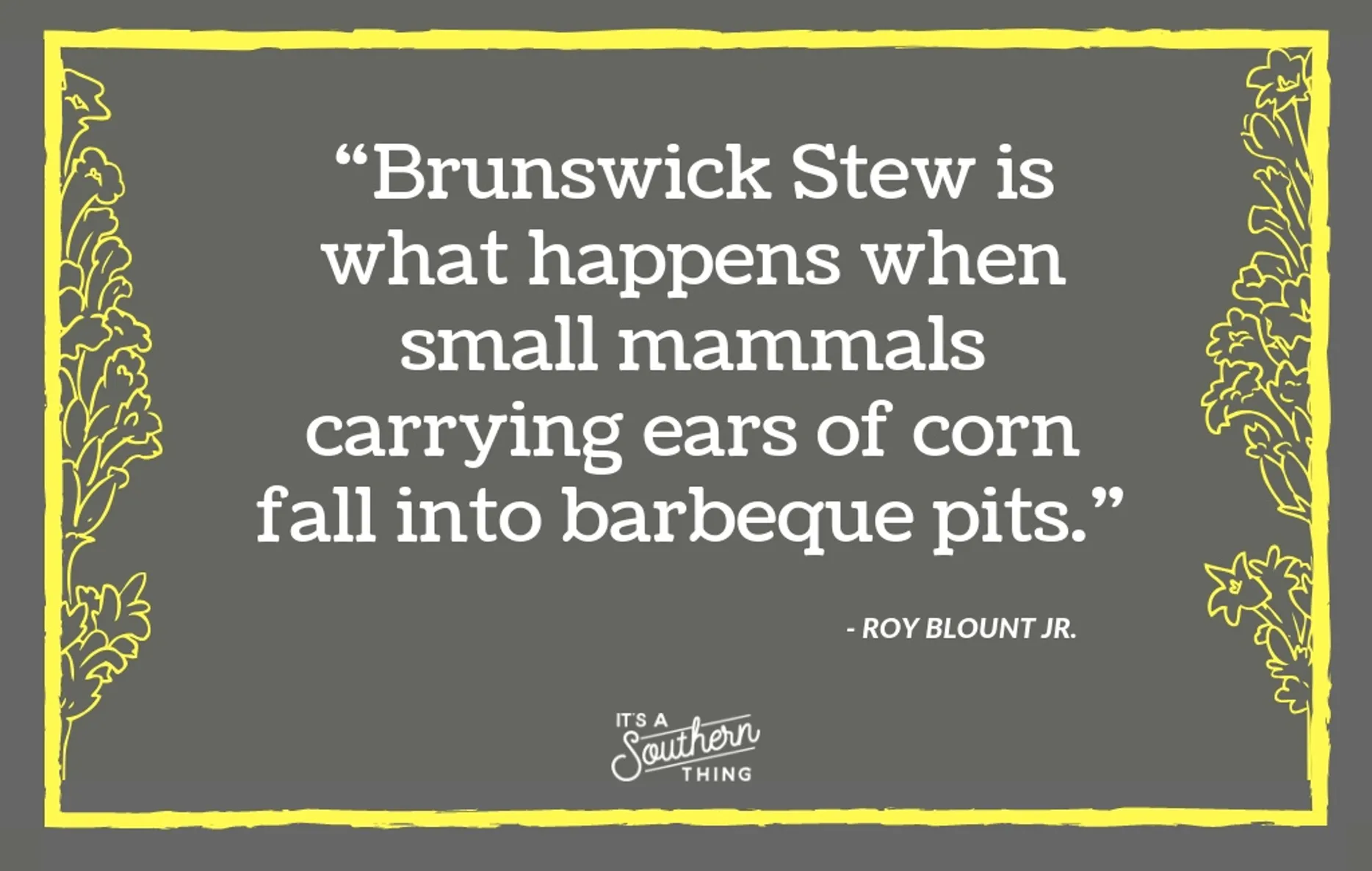 While today's Brunswick stew typically uses beef, chicken or pork, it is still a thick tomato based stew that uses a variety of basic vegetables like corn, carrots and potatoes as well as butter beans. Okra is a common vegetable used and is a great thickening agent, but I personally don't care for it so omit it altogether. It's typically served during cooler weather, but in reality is good anytime. 😀

Virginia favors chicken and rabbit meat. Georgia's version typically uses a mixture of pork and beef with hotter spices and often accompanies barbecue. North Carolina favors pulled pork and Kentucky, yes even Kentucky get in on this, but they call it Burgoo.

Virginians think that Georgia's stew is too spicy and Georgians think that Virginia's stew is too mushy and thick. Also Georgian Brunswick stew almost always has peas and Virginian Brunswick stew almost NEVER has peas. The meat and even the vegetables vary by location, but the one thing southern cooks ALL agree on is that the stew MUST have a thick paste like consistency.

This article in Southern Living is one of the most thorough to follow but, this article at It's A Southern Thing is one of the simplest and easiest to follow.

So after all that, I offer you MY version of Brunswick Stew loosely based on an old recipe I found in my grandmother's pile of cut out recipes. To stay out of the fray of the debate I decided to call mine EVERETT STEW making it regional to the area I was living in when I developed the recipe.
EVERETT STEW (formerly known as Brunswick Stew) serves 4-6
4 medium new potatoes, cut into small cubes
2 medium onions, chopped SMALL
2 large carrots, peeled and sliced
4 cups homemade chicken bone broth
2 or 3 cans crushed tomatoes
4 tablespoons brown sugar
FRESH ground sea salt and black pepper, to taste
3-3 1/2 pound pork butt, cut in half, trimmed of excess fat**
1 can white beans
1 or 2 cans of Mexican corn niblets
Chopped green onions for garnish
Spray the inside of your crock with non-stick cooking spray.

Stir together the potatoes, onions, carrots, bone broth, tomatoes, brown sugar, salt and pepper.

Nestle pork pieces down into the mixture, turning to coat well.

Cover and cook on LOW 7-9 hours or HIGH 5-6 hours until the meat shreds easily with two forks.

Remove meat, shred and return to the slow cooker along with the

corn and white beans. Cook another 30 minutes on LOW to heat through.


Top with fresh chopped green onions.

Serve with crusty bread or FRESH rolls.
**NOTE: This recipe can be made quicker (2 hours simmering) on the stove top if you have leftover meats to use.