Hubs LOVES pancakes, but they're not something I can tolerate much anymore so this is a simple recipe that keeps well for reheating too. It's also simple enough to reduce for a small size.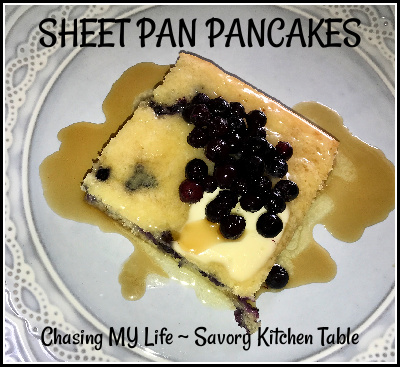 SHEET PAN PANCAKES
2 1/2 cups WHOLE milk or half & half
2 EXTRA LARGE eggs
1 tablespoon PURE vanilla
2 3/4 cups flour
2 tablespoons baking powder
1/4 cup sugar
1/2 teaspoon salt
1 stick salted butter, melted
2 cups WILD blueberries
butter & syrup, for serving
Preheat oven to 425°.

Whisk together the flour, baking powder, salt and sugar. Set aside.

Whisk together the milk, eggs and vanilla, blending well. Using a blender or hand mixer works well also.

Add the flour mixture gradually, blending until smooth.

Add half of the melted butter, blending well.

Spread half the remaining butter on a sheet pan, swirling to coat the bottom and sides.

Pour pancake batter over the butter evenly.

Sprinkle with most of the blueberries, reserving a few for garnish.

Bake 20 minutes until golden.

Brush entire pancake with remaining butter, cut into squares and serve with syrup or powdered sugar.