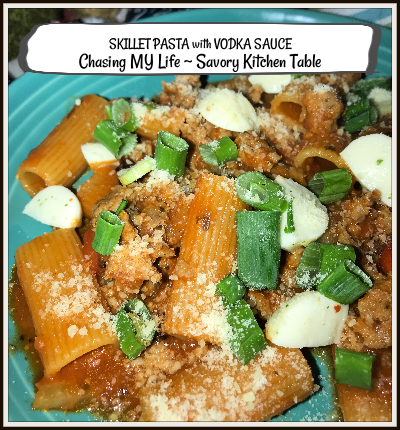 SKILLET PASTA with VODKA SAUCE
1 bunch green onions or 1 large shallot, thinly sliced
1/2 pound ground beef
1/2 pound sweet Italian sausage
2 cloves garlic, minced
2 cups vodka pasta sauce, homemade or jarred – your choice
3 cups homemade beef stock
12 ounces penne pasta
1/4 cup chopped marinated sun-dried tomato pieces
1/2-3/4 cup quartered marinated mozzarella balls
1/2 teaspoon crushed red pepper flakes
Coat 12 inch non-stick skillet with non-stick cooking spray. I like to use my heavy enameled cast iron crock pot skillet.

Heat over medium-high heat.

Add beef, sweet Italian sausage, most of the green onions

(save some for garnish)

, FRESH ground sea salt and black pepper to taste, cooking 8-10 minutes and breaking up the meat into small crumbles until meat is cooked through.

Add garlic and stir 30 seconds until fragrant.

Drain the meat and discard the grease.

Add 1/2 cup of the sauce and water to skillet. Bring to boil.

Add pasta and red pepper flakes.

Cover 10-12 minutes and cook JUST until tender.

Stir in meat and remaining sauce, cooking a couple minutes to heat through.

Gently fold in Mozzarella ball pieces.

Top with scallions and serve immediately.